PETA France got extra lucky when they snagged hot singer Eve Angeli to pose for their newest anti-fur ad. However, this beauty really took it to the next level when she posed alongside a skinned fox and the tagline "This Is the Rest of Your Fur Coat." She really wants the world to see just how gruesome the fur trade can be, and for that we adore her.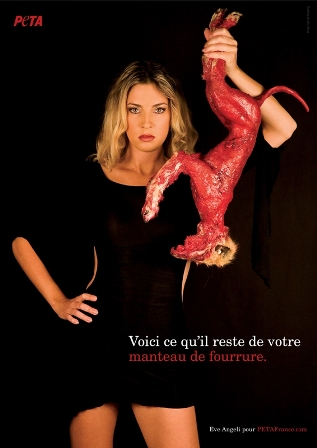 Another reason we love Eve is that she's so dedicated. This is not the first time she has signed up to help animals on fur farms. She once stripped down to tell the world she'd "rather go naked than wear fur." She's even done a nude calendar to help animals on fur farms!
Eve became an avid supporter of this cause years ago after she saw pictures of animals on fur farms. In an interview with PETA France, she said, "I saw pictures that traumatized me—at least they shocked me for real. We become aware of the agony of those animals abused on fur farms in confined cages."
If you haven't yet, you should definitely pledge to be fur-free, or as Eve might say in French: Je m'engage à NE PAS PORTER DE FOURRURE.
Written by Christine Doré