During our KFC Naked Truth demo tour, PETA campaigners encountered one bossy spectator—and he was a cop! Let me start by saying that our campaigners are trained, professional, and passionate (plus they know how to rock an eye-catching demo), and they always check local laws before every demo to make sure we abide by the city's regs. Colorado Springs was no different, yet a serious party pooper might be lurking behind every corner—a person who perhaps didn't appreciate being forced to think about his or her meat consumption.
As the demo started, the ladies stripped down to bikinis and held a sign around their bodies (to create the illusion of nudity—I mean, what's hotter than a little mystery?) stating, "The Naked Truth: KFC Tortures Chickens." All was going well as the passersby received important literature and information about KFC (not to mention a visual that could get them through the rest of their day), but then the party got officially crashed when a particular police officer showed up.

Exhibit A: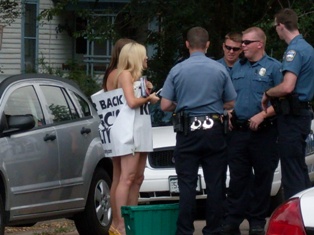 Mr. Officious, the man with his back to the camera, threatened the girls with citations for public indecency and demanded that they drop their sign (excuse me?) so that he could see what they were wearing behind it. The girls assured him that all their naughty bits were covered, but the officer wouldn't take "No!" for an answer. He demanded that they follow him and get dressed behind a blanket, snickering all the while (he was snickering, that is!). The girls were polite and complied.

Exhibit B: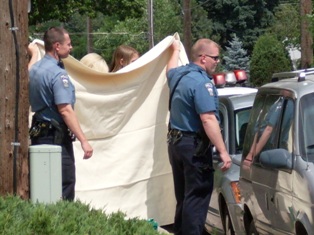 After the girls got dressed, they had their information taken down by the police and the whole shebang ended with the other officers telling the first officer that it wasn't a violation. Right—they knew that! The "bad cop" left, but one "good cop" stuck around a bit, took a leaflet, and said he would check out our Web site to see what this demo was all about. The demo still affected him … score! Not to mention, the police action drew a large crowd of inquisitive folks (including a local KFC employee) who took our literature and became super interested in challenging their KFC ways.
Currently, PETA's legal eagles are reviewing the details and photos and deliberating about taking action on our First Amendment rights, so we'll let you know if anything more comes of this. But for now, I'd just like to say thanks to the Colorado Springs police—a lot of folks now know the naked truth behind KFC.
Posted by Christine Doré