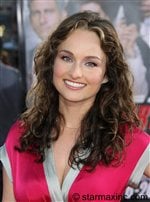 When Food Network chef Giada De Laurentiis asked her viewers what they'd like her to cook, they overwhelmingly requested more vegetarian meals. In fact, De Laurentiis predicts vegetarian meals will be the hot trend in 2012, and in preparation, she's been testing a variety of mouthwatering vegetarian concoctions. She says in a Food Network video that when her mother went vegetarian, "I sort of made it my mission to start coming up with dishes that wouldn't make you miss the meat." In the video, De Laurentiis shares her recipes for delectable dishes, including a zesty vegan curry bean dip:
To help get her creative juices flowing for developing more vegetarian delights, PETA sent De Laurentiis a copy of The Conscious Cook by vegan chef Tal Ronnen, who has cooked for the likes of Oprah and Ellen DeGeneres. The book is a wealth of information about delicious, versatile, and protein-rich faux meats that can be the basis for healthy plant-based meals.
To get a jump start on 2012's vegetarian food craze, pick up your own copy of Chef Tal's book, or browse the free vegetarian recipes on PETA's "Living" page right now!
Written by Heather Faraid Drennan