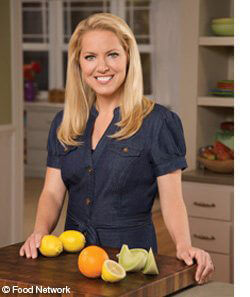 Melissa d'Arabian makes a lot of budget-conscious families happy with her Food Network show Ten Dollar Dinners. She's saving a lot of animals, too, by showcasing tasty meatless creations that would make even the most hardened carnivore's mouth water. And d'Arabian is quick to point out that almost all her recipes can easily be made vegetarian or vegan. We sat down with the bubbly chef to talk about season five of Ten Dollar Dinners and this weekend's DVR-worthy dish, Footloose and Fancy-Free Falafel.

Was the Footloose and Fancy-Free Falafel one of your creations?
Absolutely. Everything on Ten Dollar Dinners is something I have made in my home. Ten Dollar Dinners is about getting on TV recipes that come from my real life experiences as a career woman with no kids, a stay-at-home mom, and a working mom. My food reflects those life experiences.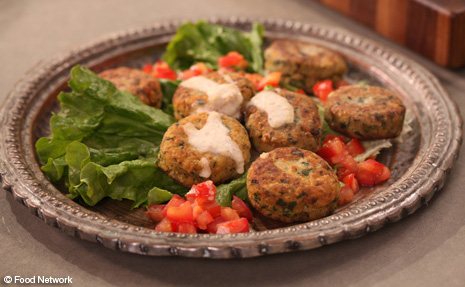 What kind of response have you gotten from the shows with meatless meals?
The premiere episode this season was meatless, and people loved it. Interestingly, I have not had one comment from people saying, "You know, you didn't have any meat." I think in that episode, I even talk about how a lot of people are doing Meatless Mondays.
What is your favorite vegetarian dish?
It's the raw lasagna at Pure Food and Wine. It's a raw vegan place in New York, and they have this lasagna that is unbelievable.
What made you want to do recipes that don't include meat?
When I won Food Network star, I got this big package in the mail introducing PETA. In the package was this really nice letter saying, "Would you consider looking at some of these recipe books and seeing if you find any inspiration?" And I actually went through the books and cooked my family vegan food for 30 days. They didn't notice as much as I thought they would. And I love vegetarian food. It's also because I'm a human being living in America and there's a trend toward even non-vegetarian families serving occasional meatless meals. So if, for example, this falafel is what I'm serving my family, that's what's going to show up on the show.
*****
You can catch Ten Dollar Dinners on Food Network Sundays at 9 a.m. ET and 8 a.m. C.T. "Like" Melissa's page on Facebook and follow her on Twitter!

Written by Michelle Sherrow