When I was 12, I won a fishing contest—something I haven't been proud of for a long time now. Back in the day, I was conditioned to ignore any qualms I might have felt about hooking fish, but I eventually realized how much suffering I was causing and put down my rod and reel for good.
What I've only more recently come to understand is that angling doesn't just hurt fish. Case in point: PETA staffers Hannah and Philip Schein were at Lake Kussharo in Hokkaido, Japan, when they saw a whooper swan who had a multi-pronged fishing lure embedded in her foot. She tried to remove it the only way she could—with her mouth—but the sharp hooks only became embedded in her beak as well. With her face now attached to her foot, the swan struggled in a twisted circular position, panicked and in pain:
Several people helped the Scheins catch the bird. Then Hannah and another person restrained the terrified swan while they carefully removed the hooks: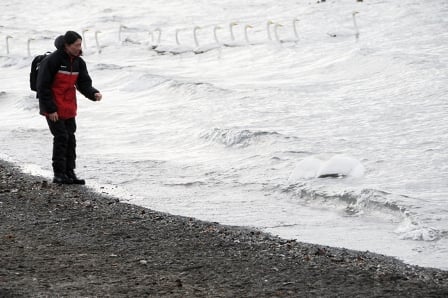 Freed from the deadly lure, the swan—no doubt relieved, but with good reason to be wary of humans—flew away with a vigorous sweep of her mighty wings: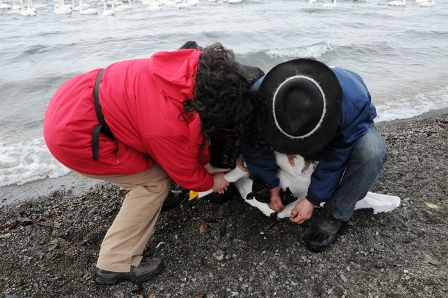 Tragedy was avoided in this case, but not all victims of fishing tackle are so lucky. Countless water birds and mammals suffer, and many die, from injuries caused by discarded or lost fishing hooks, monofilament line, lead weights, and floats. Animals who become entangled in fishing line can be trapped underwater and drown or die slowly of starvation. The UK has banned certain types of tackle because of this problem, and other countries need to follow its lead.
Even non-anglers can help by skipping seafood. Commercial fishing boats haul in sharks, sea turtles, birds, seals, and dolphins who get tangled in nets and hooked by long-lines only to be thrown overboard to die of shock, blood loss, or predation.
If you find yourself craving cod or salivating over salmon, just picture a plate full of snared, scared swans. Then enjoy these cruelty-free recipes instead.
Written by Jeff Mackey