It was 20 degrees in Michigan, and this small dog was tethered outdoors without any shelter to protect her from the plummeting temperatures. She was shivering, lonely, and suffering from a severe skin infection that was causing her fur—her only defense against the bitter cold—to fall out.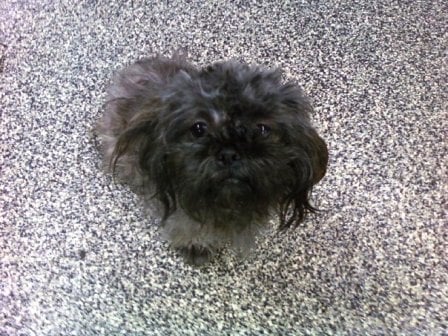 A compassionate passerby alerted PETA's Emergency Response Team that the dog appeared to be in danger. It was late, but we promptly notified a solid dedicated humane officer who with whom we'd worked with in the past. Despite being off duty at the time, he rushed to the scene and made a heartfelt plea to the dog's guardians, who, thankfully, agreed to relinquish her into his custody on the spot. The dog, later named Suzy, was whisked to a nearby animal shelter for immediate assessment and care. Shortly after the rescue, the wonderful humane officer posted pictures of Suzy and an account of the incident on his Facebook page. His post stated, "Strange thing just happened; I just got a call from PETA requesting I check on a dog …. Don't know how they got my # but I'm off to go check, after all I gave my word that I would."
Every winter, we're inundated with calls about dogs who are relegated to lonely back yards by people who refuse to allow them inside and make them a part of their family. These dogs are often forced to withstand freezing temperatures, often with nothing more than a plastic barrel or a lean-to as shelter from the ice, sleet, and snow. Not only are these dogs cold and miserable, they are susceptible to hypothermia, frostbite, and even death. Although winter is especially harsh, chaining a dog is never a safe or acceptable option. Dogs are social pack animals who want and deserve companionship. If you ever spot a dog in need, please do everything you can to help, including alerting local officials to your concerns. Your voice can make a difference!
Written by Logan Scherer