By now, the whole world knows about the horrors of the Canadian seal slaughter. With demonstrations taking place around the world, it's pretty hard not to notice. Our friends in Canada, Germany, and cities across the U.S. have been out on the streets to spread the word. Check out some photos of recent demonstrations, and then visit our Action Center online to find out how you can organize your own protest.
We love LUSH for being cruelty-free, and now we love the cosmetics maker even more for teaming up with Sea Shepherd to save seals.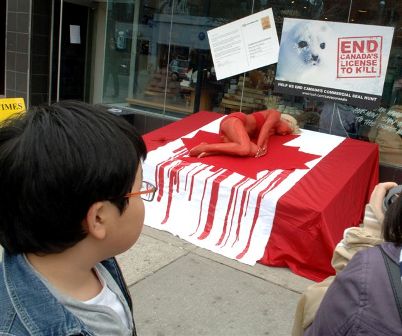 This concerned citizen in Detroit is holding a "hakapik," a club with a hook on the end that sealers use to bludgeon seal pups.
Our friends at PETA Germany showed up in full force to defend seals.
Londoners certainly know how to make a statement!
This Chicago demo brought tears to the eyes of onlookers. One passerby even took up a poster and joined the protest.
Inspired yet? Take a minute to read the words of a Canadian who opposes the seal slaughter, and then take action by telling the Vancouver Olympic Organizing Committee that you won't support the Olympic Games until Canada stops supporting the seal slaughter.
Written by Lianne Turner