Every day, PETA's fieldworkers rescue homeless and unwanted cats who are battle worn and weary after months or years on the streets or in the woods. Kind-hearted people often feed homeless cats to give them at least a little relief from the constant hunger that gnaws at their worm-filled bellies. But food alone doesn't protect cats from the dangers and hostility that exist on the streets.
Two cases just this week exemplified the hard lives of homeless animals:
This cat, who had apparently been homeless for quite a while, had no teeth—leaving the cat with limited defenses and making it nearly impossible for her to get adequate nutrition.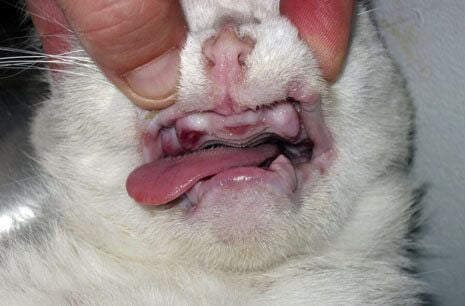 This feral kitten was so weak that he could barely move. He was emaciated and suffering from a raging upper respiratory infection that prevented him from being able to see or smell his food. Without PETA's intervention, he likely would have starved to death.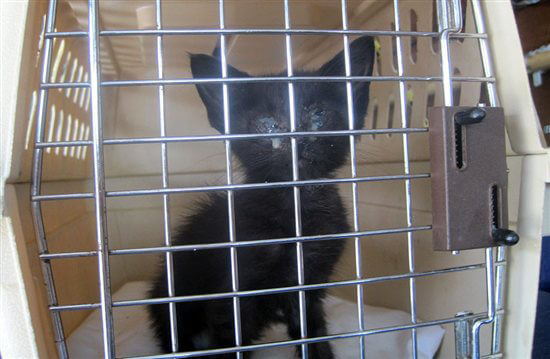 Many people feed neighborhood cats without knowing how the cats live and die when not at the food bowls. I'd be a millionaire (and donate it all to PETA!) if I got a nickel each time a cat-feeder told me, "There used to be a white one, but he doesn't come anymore" or "I haven't seen the momma in awhile" and similar sad stories. They break my heart because I know that the cats who aren't showing up met a horrible fate under the wheels of a car, in the mouths of dogs or other animals, or at the hands of cruel people. That is, if they didn't succumb to one of the many ailments that kill cats on the streets when they don't get treatment. Even a simple urinary tract infection quickly becomes deadly for homeless cats.
If you care about homeless and feral cats, please be strong for them and rent or purchase a humane box trap (read PETA's full instructions on trapping feral cats) and bring them to a reputable open-admission animal shelter, where they might find a loving home if they're friendly or at least a peaceful release from a hostile world if they can't be adopted. It beats the alternative.
If you absolutely can't do this, at least work with a local spay-and-neuter clinic to sterilize the cats and re-release them onto the battlefield. They will still have hard lives, but they won't bring more kittens into a world where no homes for them exist and life is a struggle.

Written by Lindsay Pollard-Post