Tony Gonzalez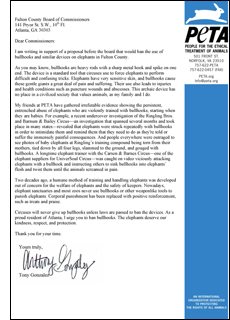 of the Atlanta Falcons has been called "the greatest tight end of all time," but it's his efforts for animals that wow us. Indeed, he's sweeter than a Georgia peach.
Tony's latest move? He's urged the Fulton County Board of Commissioners to vote for a proposal, introduced by Commissioner Robb Pitts, to ban the use of bullhooks on elephants in circuses.
He notes PETA's "irrefutable evidence showing the persistent, entrenched abuse of elephants who are violently trained with bullhooks, starting when they are babies"—and points out that elephant sanctuaries never used bullhooks and that most zoos threw their bullhooks away long ago.
Circuses Shameful traveling elephant beaters such as Ringling Bros. and Barnum & Bailey Circus—and Carson & Barnes Circus—will continue to use sharp, metal bullhooks and make gentle giants scream in pain unless these devices are banned. Elephants never forget. Please don't forget them—we're so close to making Atlanta a bullhook-free zone.
Written by Karin Bennett