After receiving a tip about troubling operations at a factory farm in Zephyrhills, Florida, PETA has obtained video footage of workers dumping scores of chickens into a dump truck—some of them still alive, according to the witness.
An eyewitness recently contacted PETA after watching workers at a Cal-Maine Foods' factory farm operation fill dump trucks with what were supposed to be dead chickens. But the caller noted that many of the chickens were still alive when spilled en masse into the trucks. The footage provided to PETA appears to show a worker tossing a live hen into the pile.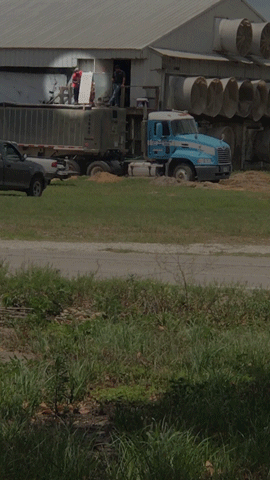 Cal-Maine Foods—the largest producer and marketer of shell eggs in the United States—sells nearly a quarter of all shell eggs consumed in the country, including those marketed as "organic" and "cage-free."
"Cage-free" does NOT mean #CrueltyFree ☝️ https://t.co/H54JVHoHlL #NationalEggDay pic.twitter.com/g0JgEN7jbb

— PETA (@peta) June 3, 2017
This company is no stranger to allegations of cruelty.
PETA has received complaints about Cal-Maine-related operations in Florida, including one earlier this year, when another citizen called in with concerns about live chickens being dumped into trucks. We've also received calls about dead birds left in cages to decompose alongside live ones. When we alerted the company to these reports, it claimed to have re-trained employees and implemented additional monitoring. But it seems that at Cal-Maine, it's still business as usual.
Cal-Maine Foods uses nearly 34 million hens in its egg operations.
Chickens are arguably the most abused animals on the planet, and the vast majority spend their lives in total confinement—from the moment that they hatch until the day they're killed.
https://twitter.com/peta/status/871155942460719104
Birds exploited for their eggs are crammed together in spaces so tight that they can't spread their wings. Because hens are packed so closely together, these normally clean animals are forced to defecate on one another.
Also, workers cut off part of the birds' sensitive beaks so that they won't peck each other out of frustration created by the unnatural confinement. After their bodies are exhausted and their egg production drops, many are killed and their bodies are used for chicken soup or cat or dog food because their flesh is too bruised and battered to be suitable for much else.
You can spare chickens this misery.
The best thing that you can do for these hens is to stop eating their eggs. With so many delicious and humane egg-free options available, cutting eggs from your diet is easier than ever. Check out a list of our favorite egg-free alternatives and recipes.