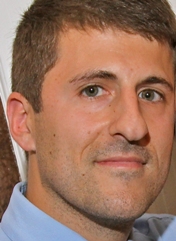 Meet activist Nick Cooney! Nick is from Philadelphia and has devoted hundreds of hours to fighting the good fight for animals. There's no doubt that his hard work is making a difference, and we are thrilled to recognize him for his support of the animal rights movement.
Nick currently sponsors more than 20 vegetarian/vegan starter kit stands around Philadelphia and has spent countless hours promoting veganism by leafleting on college campuses and busy downtown street corners as well as on the Warped Tour and at other concerts and festivals. He raises awareness of the realities of animal agriculture and shows people that going vegan is one of the most effective ways to save animals (of course, with all the delicious vegan alternatives that are available today, it's also easy).
Oh, and that's not all. He also runs The Humane League, a nonprofit animal advocacy organization with offices serving the greater Philadelphia and Boston regions. Wait, there's still more. Nick also wrote Change of Heart: What Psychology Can Teach Us About Spreading Social Change, which is a must read for all activists who care about any cause at all! PETA President Ingrid E. Newkirk calls the book "mandatory reading for everyone with a good cause and a good heart," and it's getting rave reviews from everyone in our office.
So what do you say? Are Nick's endless efforts for animals enough to inspire you to take action too?
Written by Jessy Easton