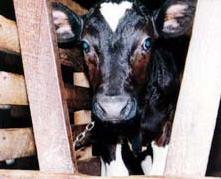 There is an end in sight, and while this isn't going to stop us from doing everything in our power to end all abuses of cows right now, the announcement this week by the American Veal Association that they will phase out veal crates by 2017 is a major landmark for the animal protection movement and proof that decades of pressure on the industry to end its cruel practices has paid off.
Veal, which rates a full 10 out of 10 on the WTF? scale, is made by chaining calves by their necks inside solitary crates for up to 23 weeks. The AVA's decision to finally abandon this torture means an end in sight for what will one day be regarded as among the most vile practices in human history.
This announcement marks the latest in a series of victories for the animal protection movement in its long struggle to eliminate the solitary, intensive confinement of farmed animals. Earlier this year, three of the world's largest pig meat producers—Smithfield Foods, Maple Leaf Foods, and Cargill Meat Solutions—took steps to phase out gestation crates for pigs, and recently, following years of discussions with PETA, Burger King made a commitment to buy 20 percent of its pig meat from suppliers that do not use gestation crates and 5 percent of its eggs from sources that do not confine chickens to battery cages. Shortly afterwards, Wendy's followed suit, pledging to purchase 20 percent crate-free pork by the end of 2008 and increase that percentage over time.
This is an important step forward, and, put together with these other victories for animals, it's clearly part of a trend. As Ingrid Newkirk puts it, "While the best way to prevent cruelty to animals is to simply stop eating them, any progress made toward mitigating their suffering is commendable."