© Star Max Inc.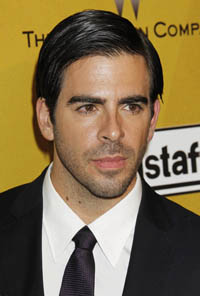 Faster than you can say Frau von Hammersmark, actor-director Eli Roth took to Twitter following last month's death of a SeaWorld trainer to speak out against keeping marine mammals in captivity.
The Inglourious Basterds star knows that if SeaWorld continues to exploit and abuse animals, then a sequel to the fatal horror show will inevitably surface. So Roth has written to Hamilton James—the CEO of Blackstone, SeaWorld's parent company—asking that the theme park immediately move its imprisoned animals to coastal sanctuaries and replace them with state-of-the-art virtual reality exhibits.
Having helmed groundbreaking horror films such as Cabin Fever and Hostel, Roth is an expert on humane alternatives to live animals in entertainment—from CGI technology to animatronics. In his letter, he suggests these technologies and lets James know that "showing visitors a more realistic version of what life is like for real marine mammals rather than displaying the captive animals' unnatural and repetitive behavior patterns—which are linked to their oppressive environment—is actually more educational, with no risk to human life."
Join Roth and the many other stars who have spoken out against SeaWorld by urging James to release these jailed animals to sanctuaries before another animal or human dies.
Written by Logan Scherer