Records just released to PETA by the U.S. Department of Agriculture (USDA) show that notorious elephant exhibitor Have Trunk Will Travel (HTWT) was cited by the agency in late August 2012 for violating the Animal Welfare Act (AWA), following a complaint submitted by PETA.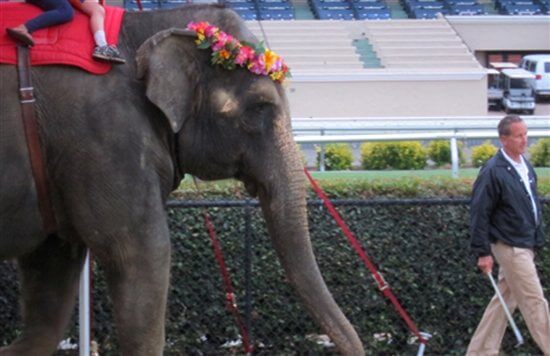 Perilous for Pachyderms—and the Public
According to its newly released inspection report, the USDA cited HTWT for failing to comply with the AWA requirement that a knowledgeable and experienced handler have direct control and supervision of elephants during public exhibition. 
Not only do elephant rides endanger humans and elephants, they're also cruel. After Animal Defenders International released video footage showing that adult and baby elephants cried out in pain as HTWT trainers repeatedly struck them with sharp metal-tipped bullhooks and shocked them with electric prods in 2011, numerous venues severed all ties with the company. It's simply unconscionable for fairs and other attractions to keep hosting HTWT given its history of abuse and endangerment.
What You Can Do
Please join PETA in urging the San Diego County Fair to join the ranks of the Orange County Fair, the Santa Ana Zoo, and the L.A. County Fair and stop hosting HTWT or any other providers of elephant rides.