Dulary arrives at the sanctuary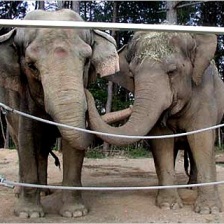 Some great elephant news on two fronts for you today, as two famous elephants have found new places to live. The first, an elephant named Dulary from the Philadelphia Zoo, has been released to a sanctuary to spend the rest of her life following the zoo's decision to close down its elephant exhibit for good. It's amazing to me to think that before I got involved in animal rights, it never even occurred to me that there was something monumentally screwed up about keeping elephants (who walk up to 30 miles a day in the wild) in tiny enclosures in places like Philadelphia for people to gawk at. Anyway, awesome work The Philadelphia Zoo for figuring that out too. You can read the full story here.
Ella PhantzPeril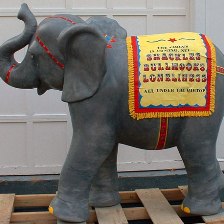 The second elephant to find a home is a beautiful little anti-circus sculpture who goes by the name of "Ella PhantzPeril" (yeah, I know. Kill me.) Ella, a shackled, weeping pachyderm who wears a sign that reads, "Shackles, Bullhooks, Loneliness — All Under the Big Top" has been the subject of a few legal troubles over the past few years, even getting the ACLU involved when DC balked at displaying her as part of a citywide exhibit of elephant and donkey sculptures. Now, after a whole lot of back and forth with the New York City Parks Department, the New York Post has reported that the city has finally agreed to allow her a spot in Union Square Park this summer. So take that, circuses.