The situation was dire for more than 30 dogs and puppies languishing at the home of a hoarder in rural Georgia. Confined to cramped cages, chained, or simply running loose on the unfenced property, the dogs were filthy and crawling with fleas, and some were losing their hair because of untreated mange. Their owner couldn't even afford to feed them, so most of the dogs had no food. The water they had was dirty, and they were heartbreakingly emaciated. Because of limited resources, none of the dogs had been spayed or neutered either, so they were breeding uncontrollably, and the situation was only going to get worse.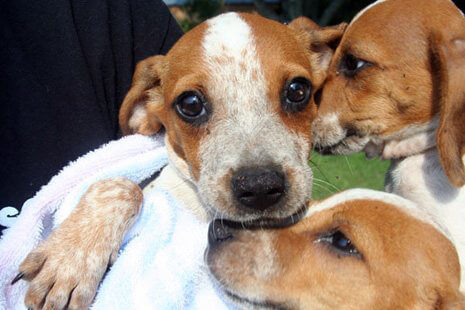 After being alerted to the dogs' plight, PETA contacted PETA member and activist extraordinaire Anna J. Ware, who works closely with the Atlanta Humane Society (AHS). The AHS team leapt into action and departed the very next day, drove for six hours, and rescued every dog on the property.
Now, the happy pups are getting much-needed food, veterinary care, and socialization. And while they wait for the homes and families they deserve, they're being smothered with TLC.
 
Written by Michelle Sherrow