For two days, the exhausted dairy cow had lain in the pasture, dying. Her eyes were missing, probably eaten by birds. A commuter passing by saw her and had been trying desperately to get help, with no luck. Eventually, this kind person, frantic to find help for the tormented animal, contacted PETA's after hours emergency hotline, and we were able to work with law enforcement officials, urging them to take immediate action.
It's hard to believe that this cow was still alive when help finally arrived, but it's much harder to imagine the tremendous anguish that she must have endured.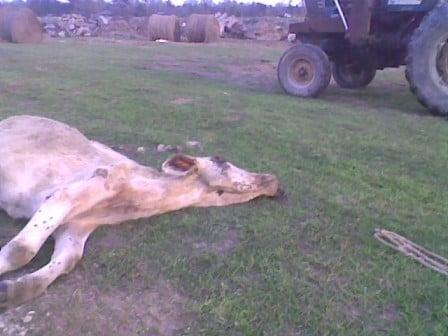 Our caseworkers stayed on the phone late into the night as deputies knocked on every door in the area, waking up residents in hopes of finding out who owned the property and the cow. After hours of searching, the man was finally located, and the deputies were mercifully able to put an end to the cow's suffering.
Unfortunately, this story is not unusual in the meat and dairy industry, where living beings are looked at as property and products. In fact, cows too sick to walk or stand are so common on factory farms and in slaughterhouses that there's a word for them: downers.
It's easy to look at cows in a field and think that they live idyllic lives, but they're commonly subjected to abuses that could warrant felony cruelty-to-animals charges if they were dogs or cats. Fortunately, though, it's so easy to opt out of contributing to their misery.
And I know that we just talked about this, but it bears repeating: If you see an animal who is suffering, report it to the authorities—and don't give up until they do something about it!
Written by Jeff Mackey