After parents and residents expressed their concerns about a donkey basketball event planned for Mona Shores High School in Michigan, PETA quickly contacted school administrators with information about the cruelty of those "games."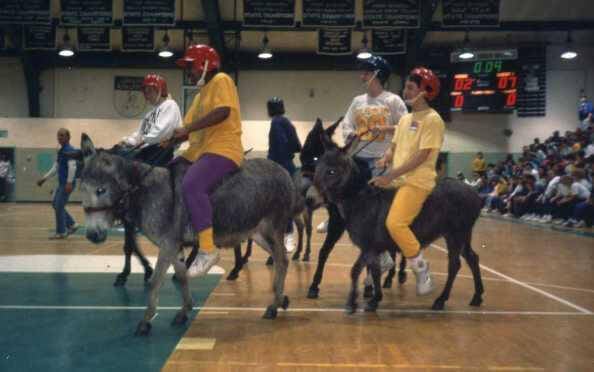 © Jill Howard Church and PETA
To their credit as responsible educators, the superintendent and principal decided to cancel the donkey basketball and replace it with a humane alternative. So the students are getting a valuable lesson in compassion—and they get to have guilt-free fun, too!
Klearchos Kapoutsis
|cc by 2.0
The change of events also helps protect students and other attendees from possible harm. Donkeys, like other animals who are mistreated and forced into loud, confusing environments, can become frightened and panic in desperation to protect themselves. A participant in a Waterloo, Illinois, donkey basketball game was awarded more than $110,000 after sustaining injuries in the game, while on another occasion, a Wisconsin state senator fell off a donkey and broke her leg.
The takeaways from this story?
Donkeys aren't ballers.
Animal abuse can put people at risk, too.
Never be silent about animal neglect or abuse.