Update: February 6, 2019
Following the death of Kai'nalu, Dolphinaris Arizona announced that it would close temporarily while a panel "reevaluates the facility." Of the four remaining dolphins, two were on loan from a captive animal exhibit in Hawaii, and Dolphinaris plans to transfer them back there. Dolphinaris "owns" the other two dolphins and plans to ship them to another marine animal theme park. Dolphinaris—a desert death trap for dolphins—should never have been built in the first place and must shut down permanently. PETA urges the facility to do the only thing that's right for the surviving dolphins: Move them at breakneck speed to a seaside sanctuary, as the National Aquarium is doing, rather than flying them to yet another marine park for no life at all in a concrete tank.
Originally posted on February 1, 2019:
Bottlenose dolphin Kai'nalu has died at Dolphinaris Arizona at 22 years old, merely half the number of years he could have been expected to enjoy if he'd been left alone in nature. He'd been sick for two weeks and had trouble swimming, eating, and even breathing, according to the captive-animal park.
Fourth dolphin dies at Dolphinaris Arizona after struggling to breathe https://t.co/KfkiCE9bOy pic.twitter.com/pv3LyZkhVO

— New York Post (@nypost) February 1, 2019
Kai'nalu makes the second dolphin to die at Dolphinaris Arizona in a month, after 10-year-old Khloe succumbed to what the park said was a parasitic infection. And he's the fourth one who's died there in just 16 months—a full 50 percent of the number the facility has held captive since it opened in October 2016. Only four more remain.
PETA has protested the park since its inception and held a memorial service and demonstration there last year after dolphin Alia died of a bacterial infection at just 10 years old.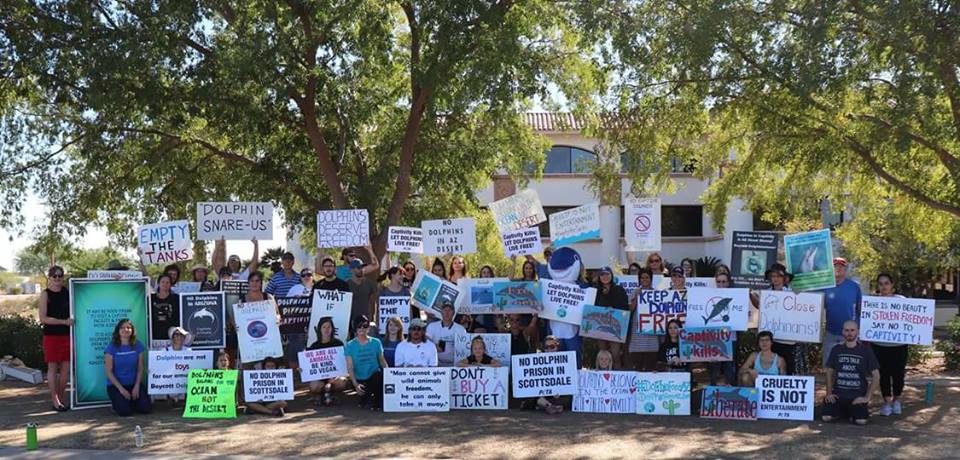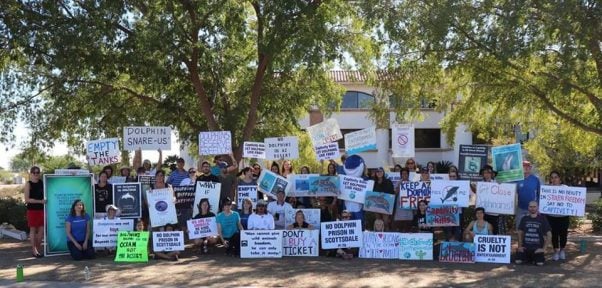 "Dolphinaris Arizona's deadly dolphin prison is out of touch with public sentiment—and there's no excuse for keeping it open," says PETA Executive Vice President Tracy Reiman. "PETA urges the facility to send surviving dolphins to seaside sanctuaries, where they'd never again be forced to swim with tourists."
PETA supporters will join our friends from Dolphin Free AZ and Ric O'Barry's Dolphin Project in calling on Dolphinaris Arizona to send the dolphins to seaside sanctuaries at a memorial protest on Saturday, February 2, from 11 a.m. to 1 p.m., at the west corners of E. Via de Ventura and N. Pima Road in Scottsdale.
You can help save dolphins by urging Expedia to stop selling tickets to SeaWorld and abusive "swim with dolphins" encounters.