Despite the death of a dolphin named Nea at the Brookfield Zoo on Monday, it was business as usual when shows resumed the next day. Nea suffered a fractured skull after apparently colliding with another dolphin. Staff were alerted to the collision after hearing a "loud pop."
With particularly twisted logic, the zoo's senior vice president of "collections" claimed the show resumed since the dolphins "love to do the demonstrations because it is part of their normal behavior." For the record, dolphins' "normal behavior" is swimming dozens of miles a day, not swimming in circles in a concrete tank.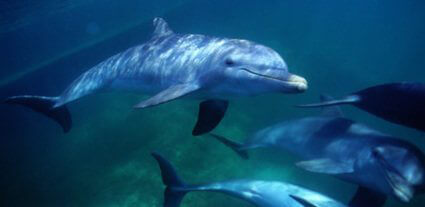 © Photodisc/Sea Life/Getty Images
Many other animals have died in troubling circumstances at the Brookfield Zoo, including Mame, an elephant in her prime at age 34 who was found on the ground with serious injuries, a 4-month-old tiger cub who lost his right foreleg and part of his tail after being attacked by another tiger, a giraffe named Dusti, and 16 stingrays used in the touch tank.
Now that scientists have proved that dolphins talk, let's use our own vocal cords to converse with family and friends and remind them that every ticket purchased to a zoo or aquarium means supporting the miserable lives and deaths of captive dolphins and other animals.
Written by Jennifer O'Connor