This was one of the dogs PETA Asia-Pacific found in horrible conditions.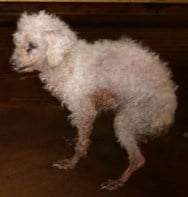 For many years, PETA Asia-Pacific has been trying to work with the government-run animal shelter in the city of Sanchong (and others in Taiwan) to improve animals' conditions. Rather than improving over the years, the lives of animals housed there—some of whom used to be people's companion animals—have grown more hellish.
Although PETA Asia-Pacific has documented poor protection from the elements and a gross lack of veterinary care—including for dogs immobilized because of illness and left to die amid their own waste—the situation has gone from bad to worse. As a typhoon swept through the area, workers released 30 dogs (perhaps to avoid having to dispose of their bodies afterward) rather than simply moving them to higher ground for protection. The "shelter" sits in a flood plain where there is nothing for the dogs to eat and no way for them to escape their pens and avoid drowning.
Please help us make a difference in Taiwan by sending an e-mail urging ShanChong city officials to shape up and take their responsibility to care for these animals seriously.
Posted by Sean Conner