Can you trust your groomer? A dog named Sadie died a hideous death from burns and other injuries when a PETCO groomer left her locked inside a cage dryer. Now her guardian, Teresa Gilland, is suing the company, seeking to have cage dryers banned in their grooming locations. We concur. Cage dryers can be death traps, and one needless death in a grooming salon is one too many.
This isn't the first time—and it almost certainly won't be the last—that an animal has been injured or has died because of PETCO's negligence. Countless animals have suffered from heat exhaustion after being left unattended in front of hot dryers, and at least one dog accidentally hanged herself when she was left unattended and tried to jump out of a grooming tub.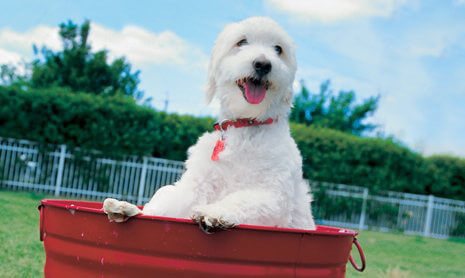 The best way to protect your dog from all this trauma and danger and yourself from the risk of losing a family member is to learn to groom your dog yourself. It isn't hard, and patience is required, but it is worth it. Still going to the groomer? Then PETA offers these safety tips:
Stay with your dog! Never let your dog disappear into the back room, no matter what anyone says. Groomers who have nothing to hide should welcome you or let you watch through a viewing window.
Consider mobile groomers who will provide services at your home, where you can watch and participate.
Find a veteran groomer who is confident with his or her skills and limitations and knowledgeable about animal behavior. Turn and walk out the door if the groomer appears to be afraid of or impatient with animals.
Look up your groomer on the Better Business Bureau and do a Google search to see if any other patrons have encountered problems with the groomer.
For more information, see PETA's grooming accident factsheet.
Written by Michelle Sherrow