Update: March 8, 2022
Once kept in a crate strewn with feces and infested with cockroaches, Desmond is now living the good life as the newest member of a PETA staffer's family.
His former guardian hoarded him and several other animals, and no one received proper care. PETA fieldworkers worked tirelessly to gather evidence to give to law enforcement, and as a result, a judge ordered the removal of 14 animals from the filthy house. Adoptable animals were transferred to local open-admission shelters to find responsible homes, and Desmond's former guardian must adhere to strict rules to ensure that the two dogs still in her custody are kept healthy and safe.
While Desmond is unable to hear the good news that his previous guardian is facing consequences for her actions, he seems to be feeling pretty good about his new life.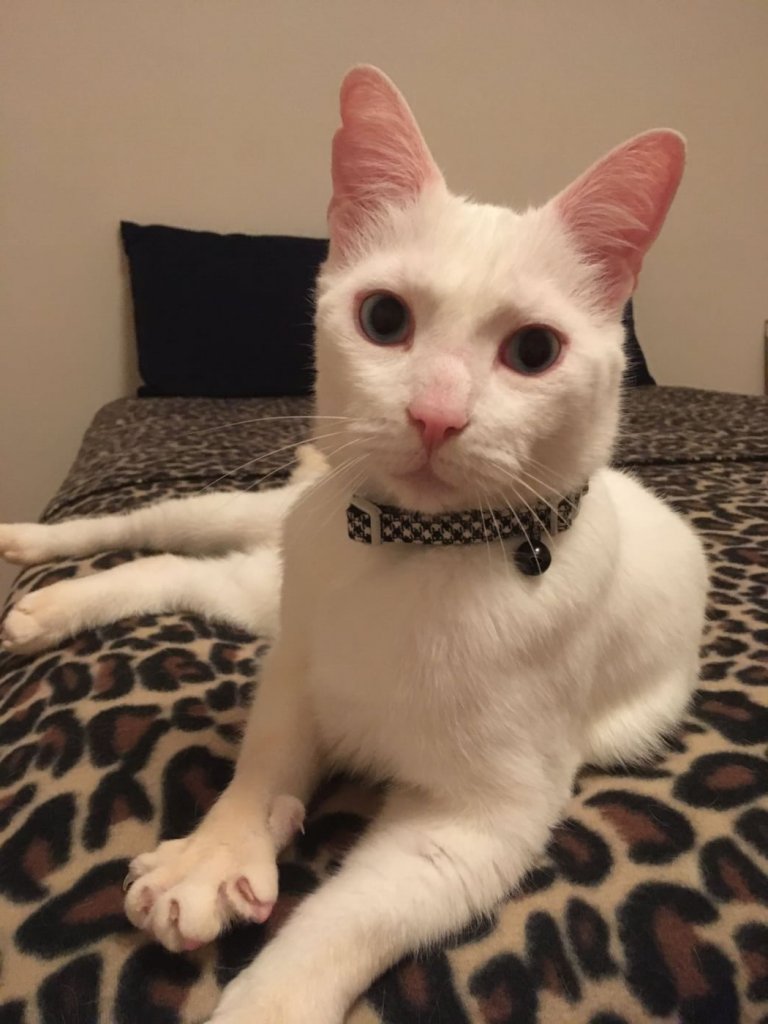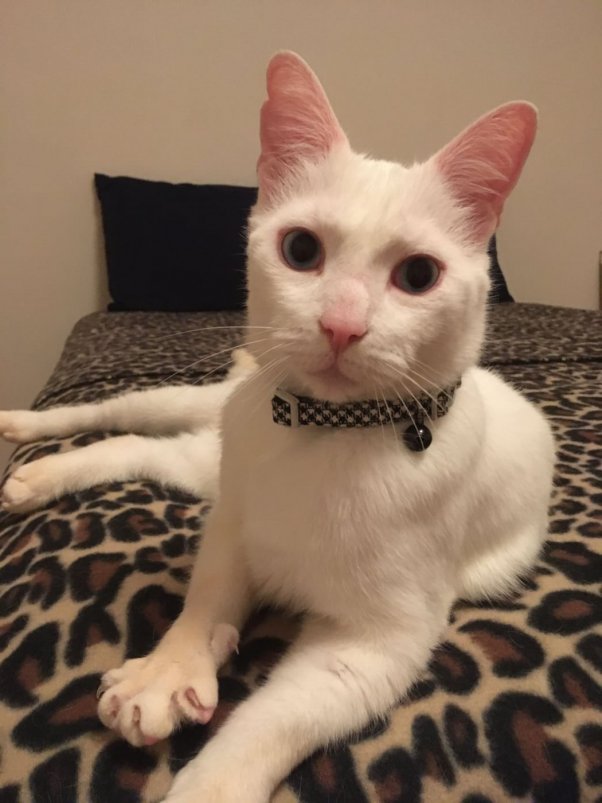 In his new permanent home, he has become quite the athlete—running after string toys, batting catnip treats down the hallway, and encouraging a healthy sibling-rivalry with fellow-feline, Romeo. While his adopter's now-broken vintage lamp was no match for his speed, Desmond does slow down long enough to provide some top-notch bedtime snuggles.
Originally posted on November 15, 2021:
Desmond is a gorgeous, snow-white cat with piercing blue eyes.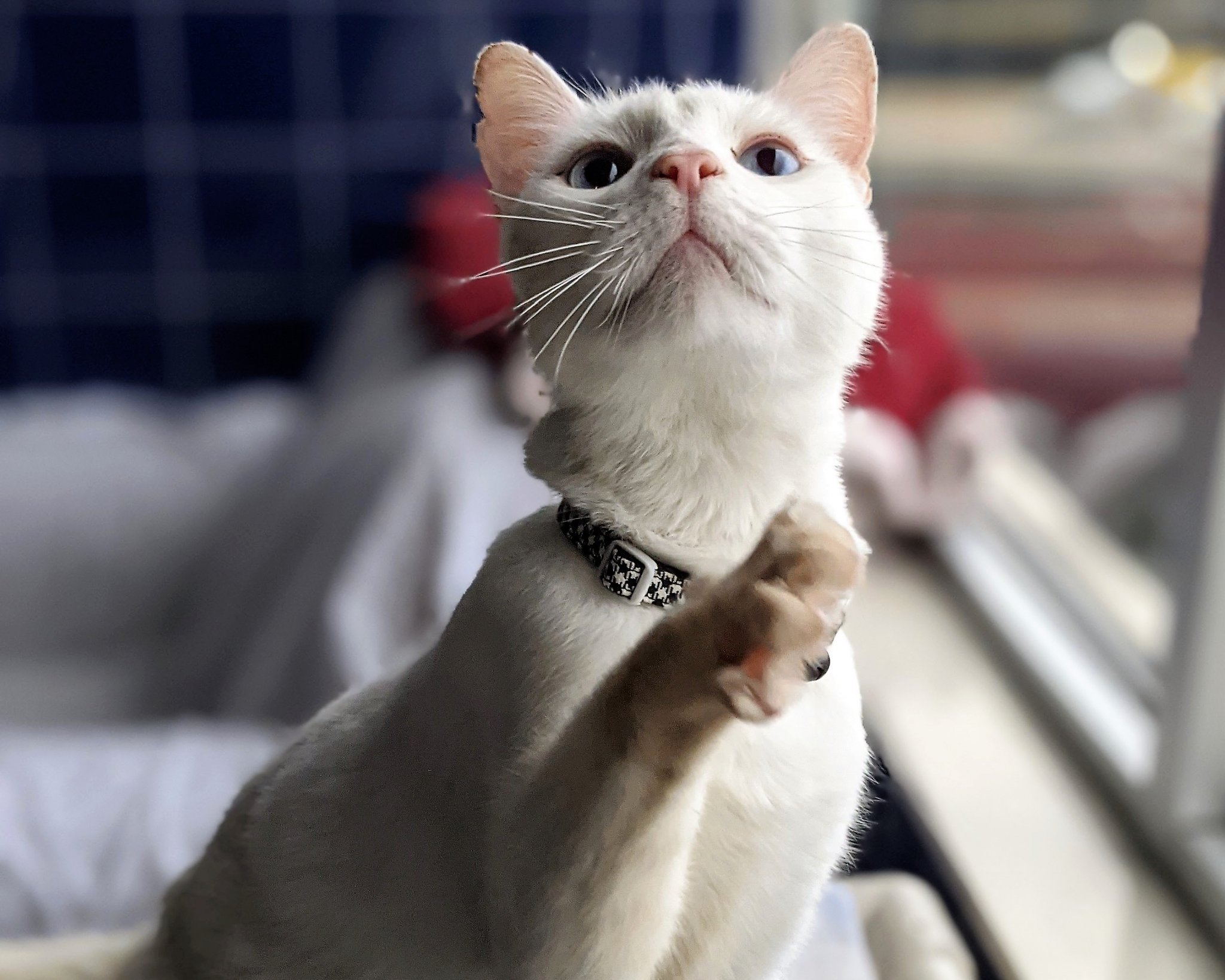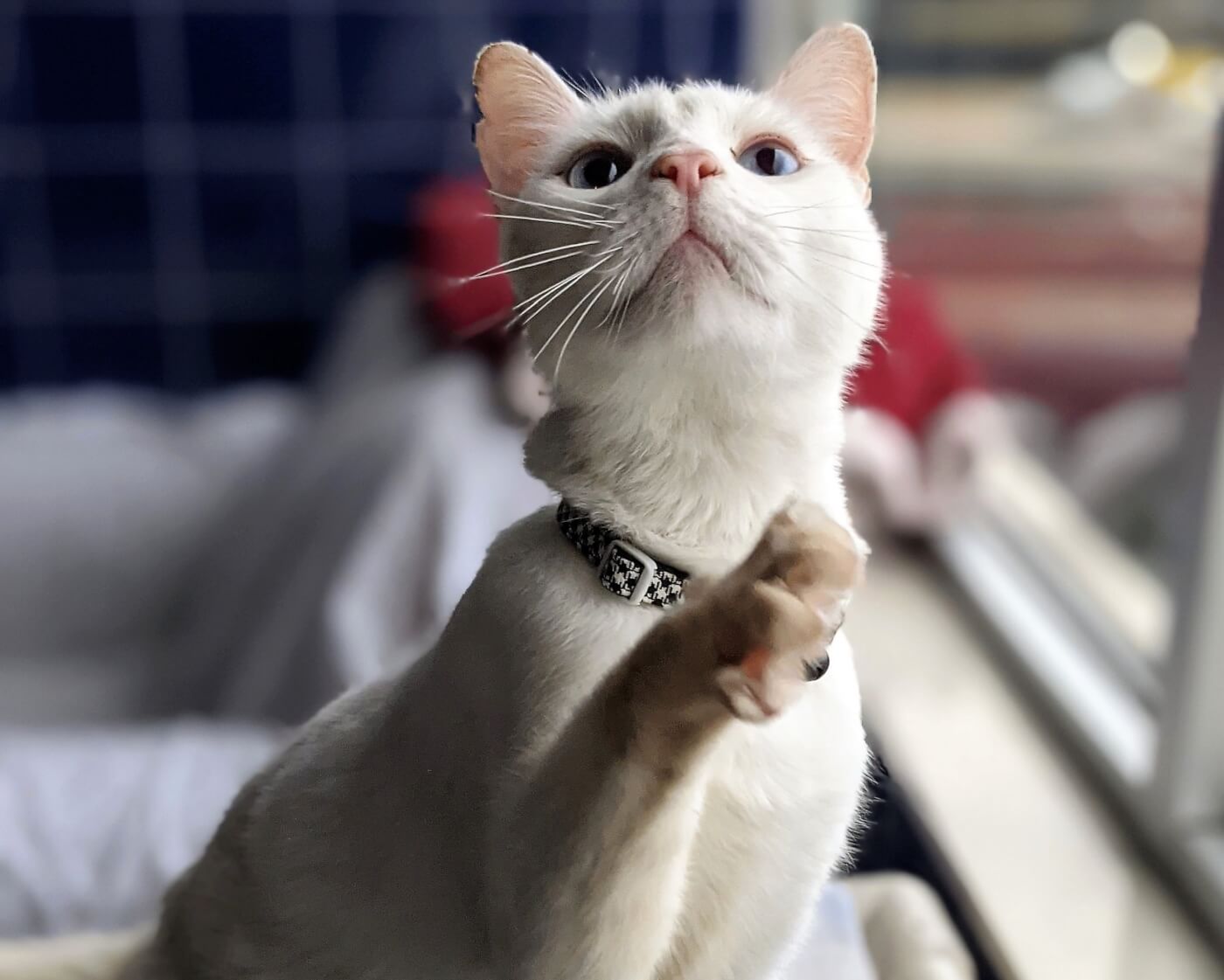 Unfortunately, his beauty comes at a high price: Like many blue-eyed white cats, he has a genetic mutation that caused him to be born deaf.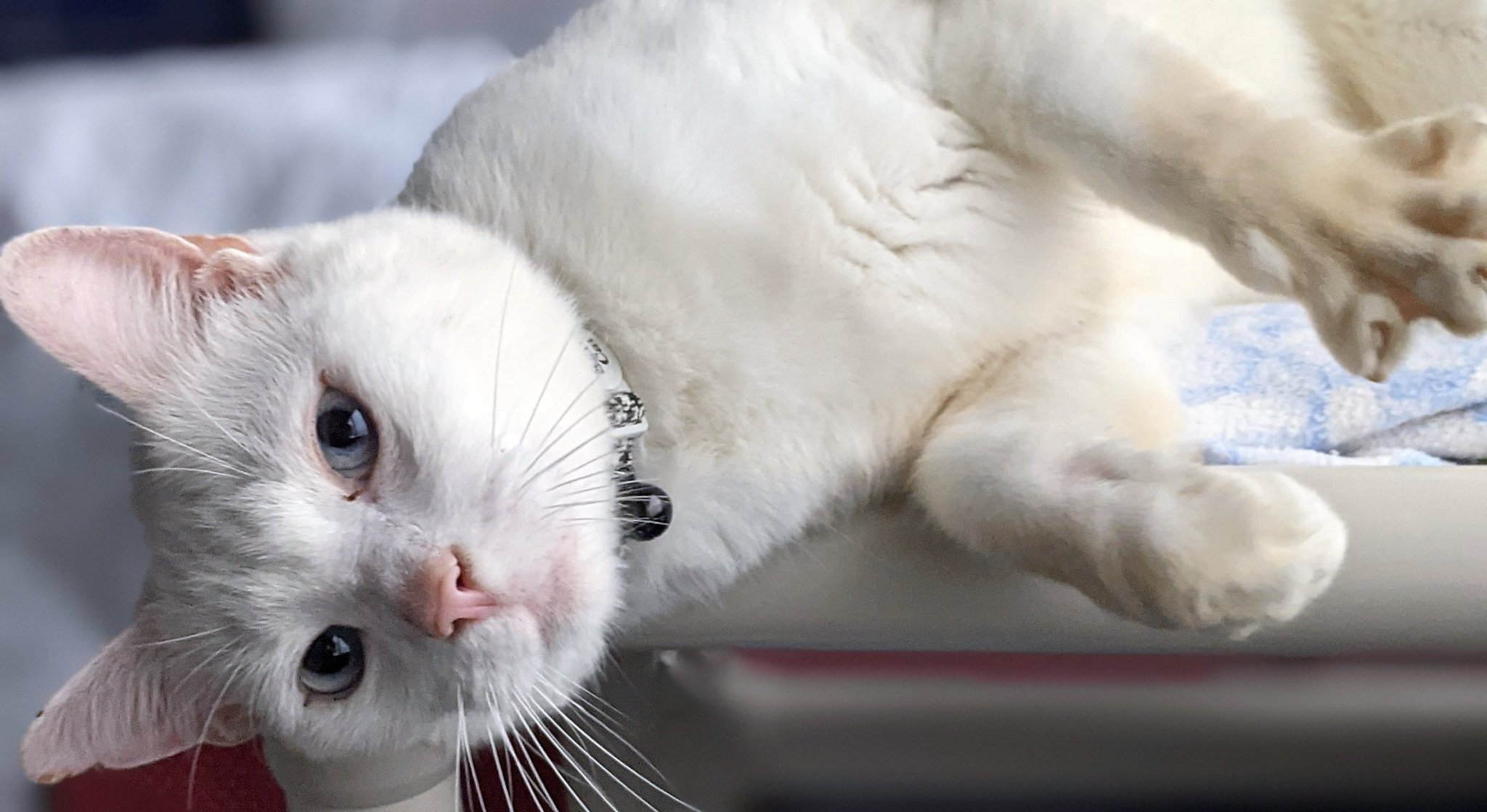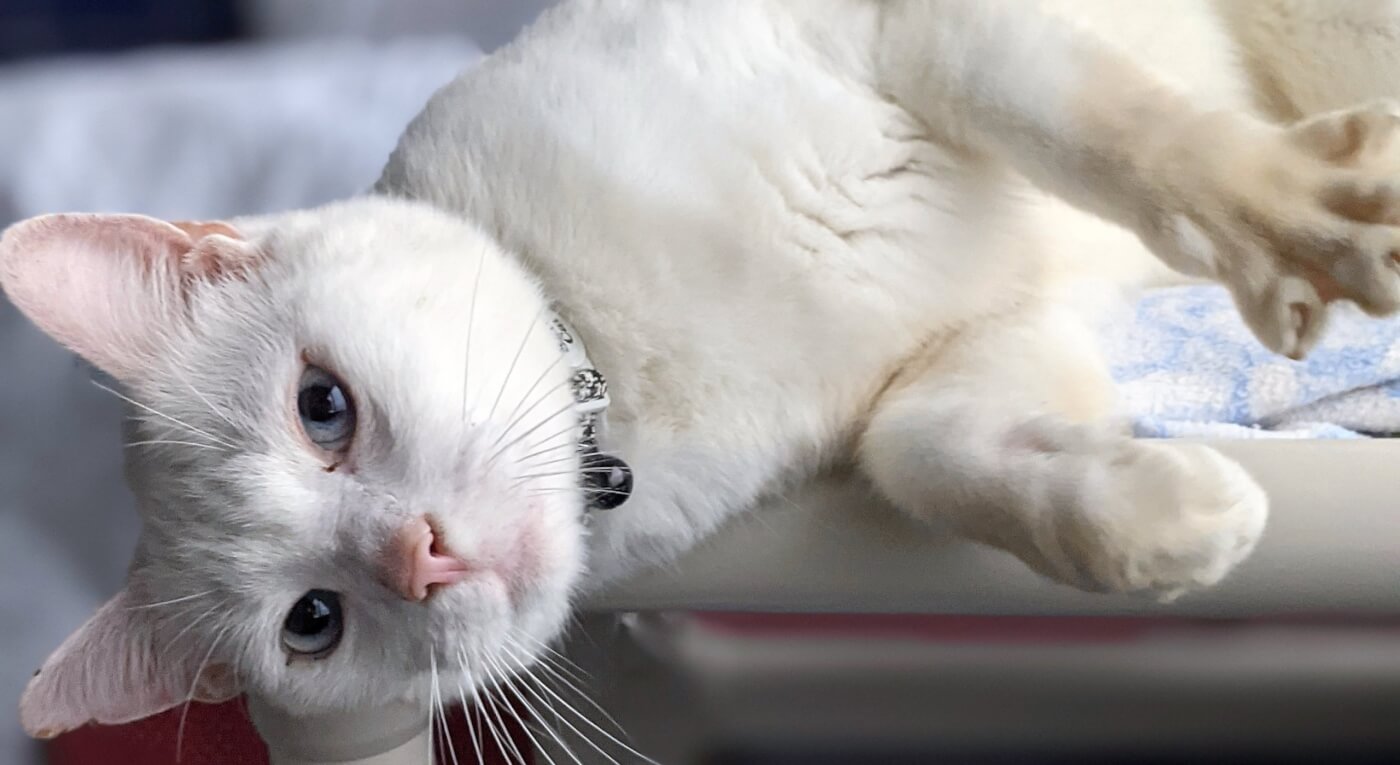 Rest assured, Desmond gets along just fine using his other senses (as long as he lives indoors, as all cats should). His former owner, by contrast, had a serious blind spot: the tremendous suffering that Desmond was enduring from being confined to a filthy cage (or, as she euphemistically called it, "crate-trained") in her home.
When PETA fieldworkers visited the Virginia residence, they found Desmond in terrible shape. The 3-year-old cat should have been scampering up carpeted cat trees, batting around catnip toys, and napping on sunny windowsills. Instead, he was confined for most of the day and night to a fetid crate that was littered with his own waste and crawling with roaches.
His beautiful white fur was stained yellow and brown from being forced to lie in urine and feces for hours on end. He had been confined for so long that his muscles had actually started to waste away.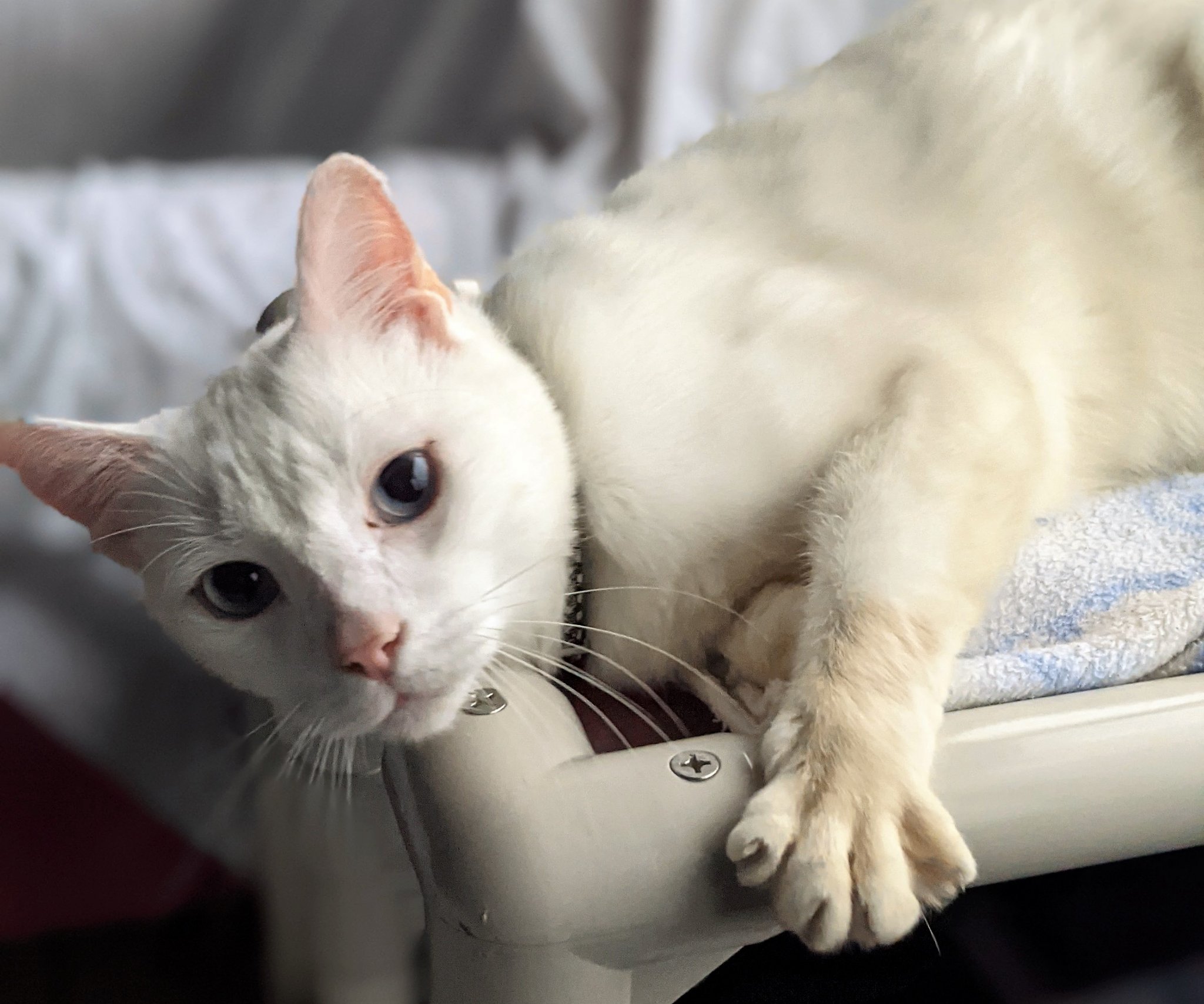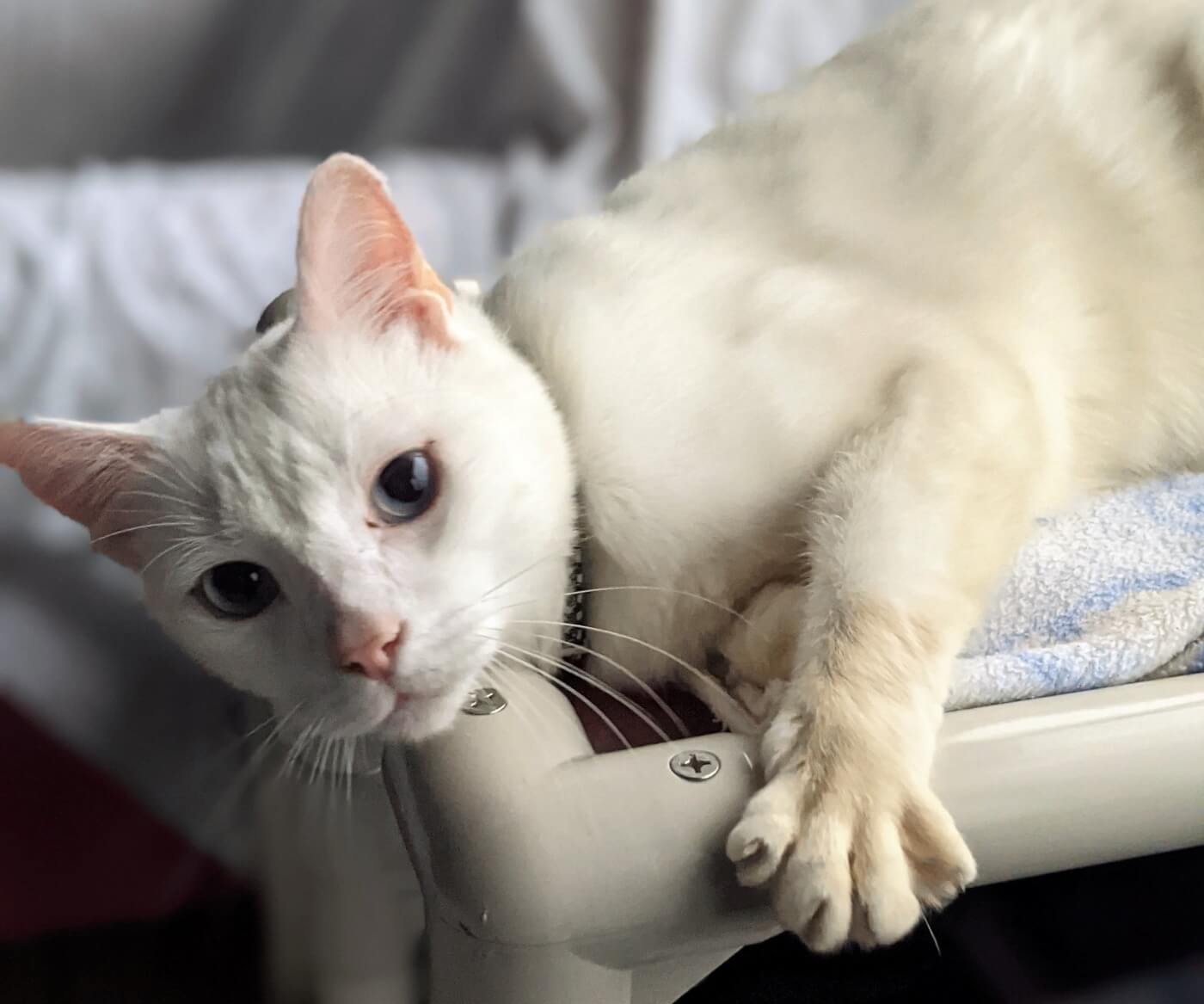 Painfully thin from lack of adequate nourishment, Desmond wolfed down the food offered to him at the Sam Simon Center—PETA's Norfolk, Virginia, headquarters.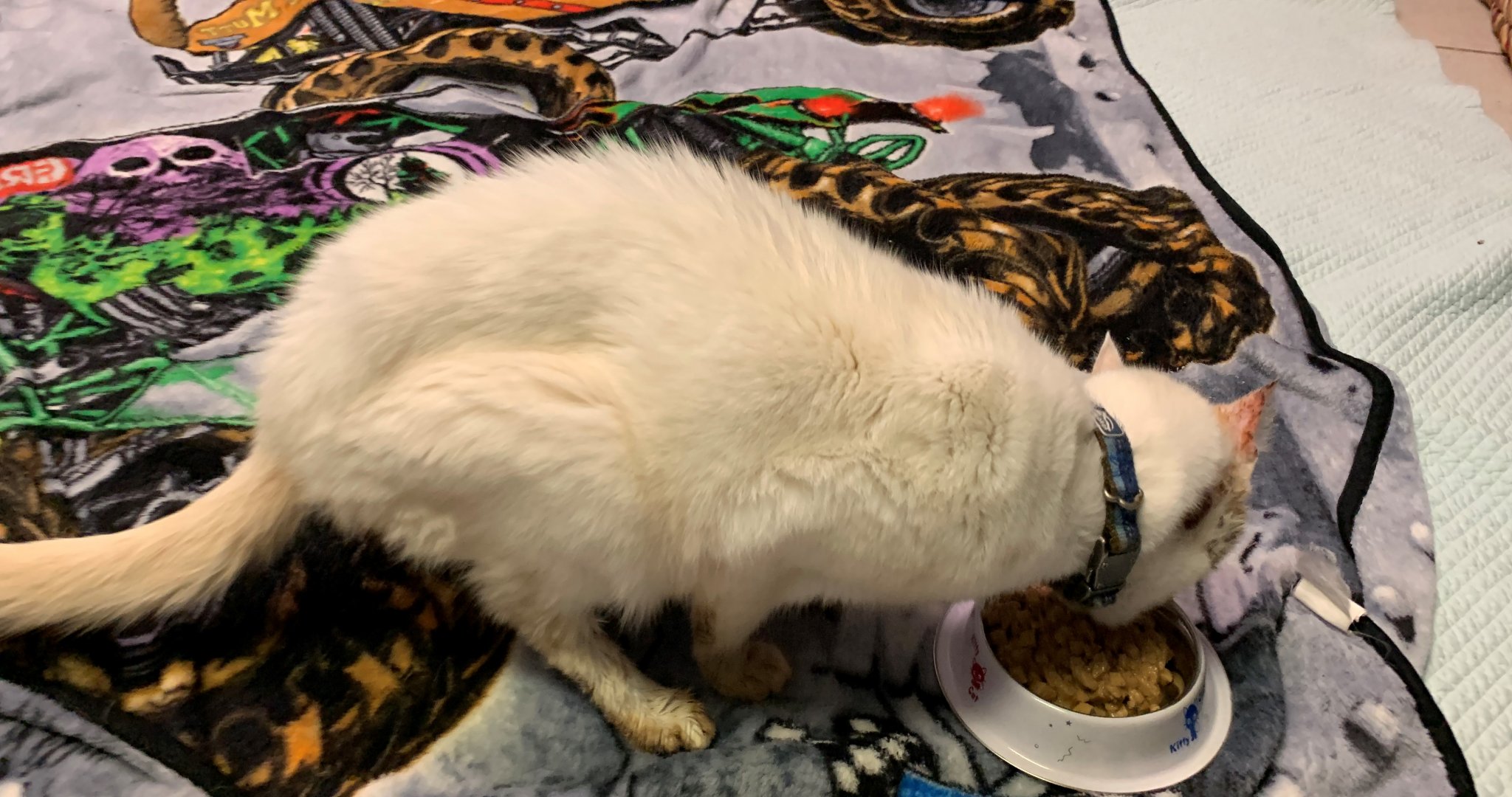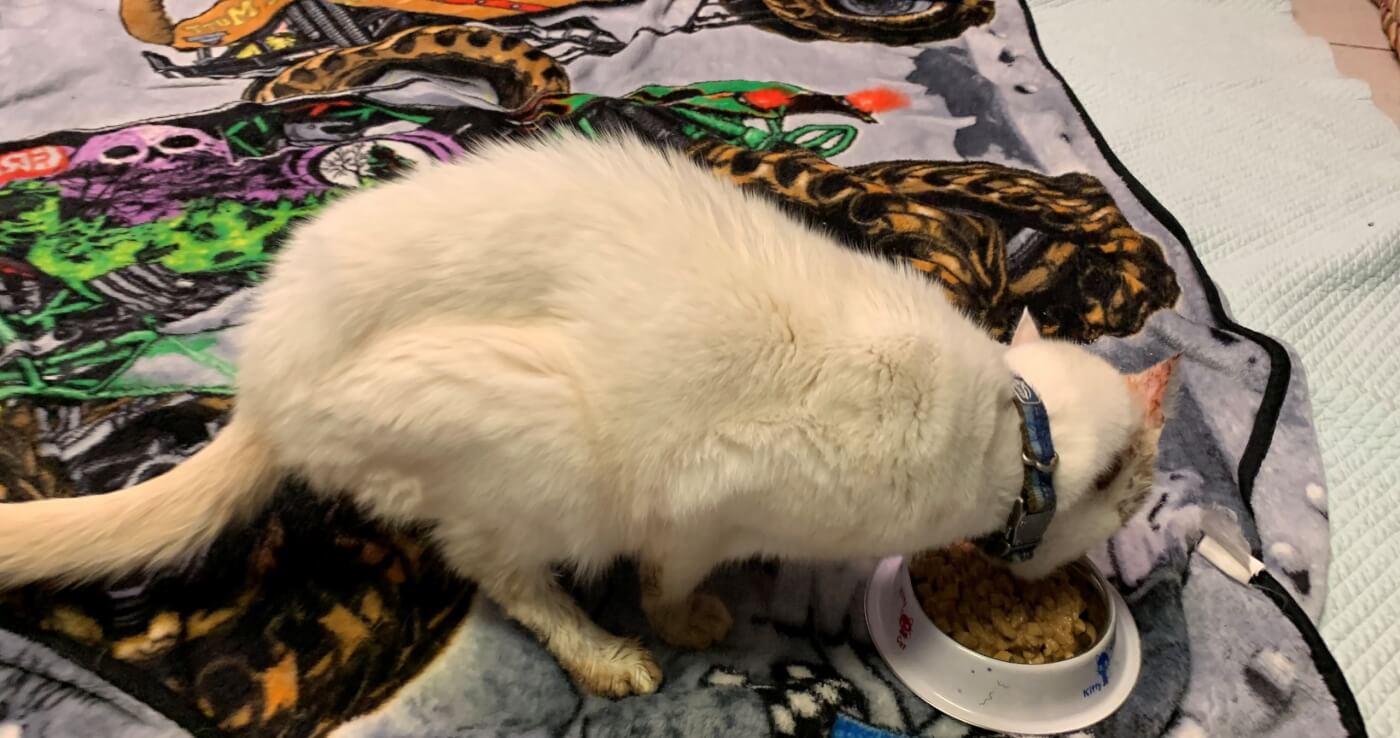 Ever since his rescue, he has revealed hidden talents, including a passion for "singing." Like another talented deaf musician, Desmond has a flair for composing beautiful music, which he performs for his appreciative foster family.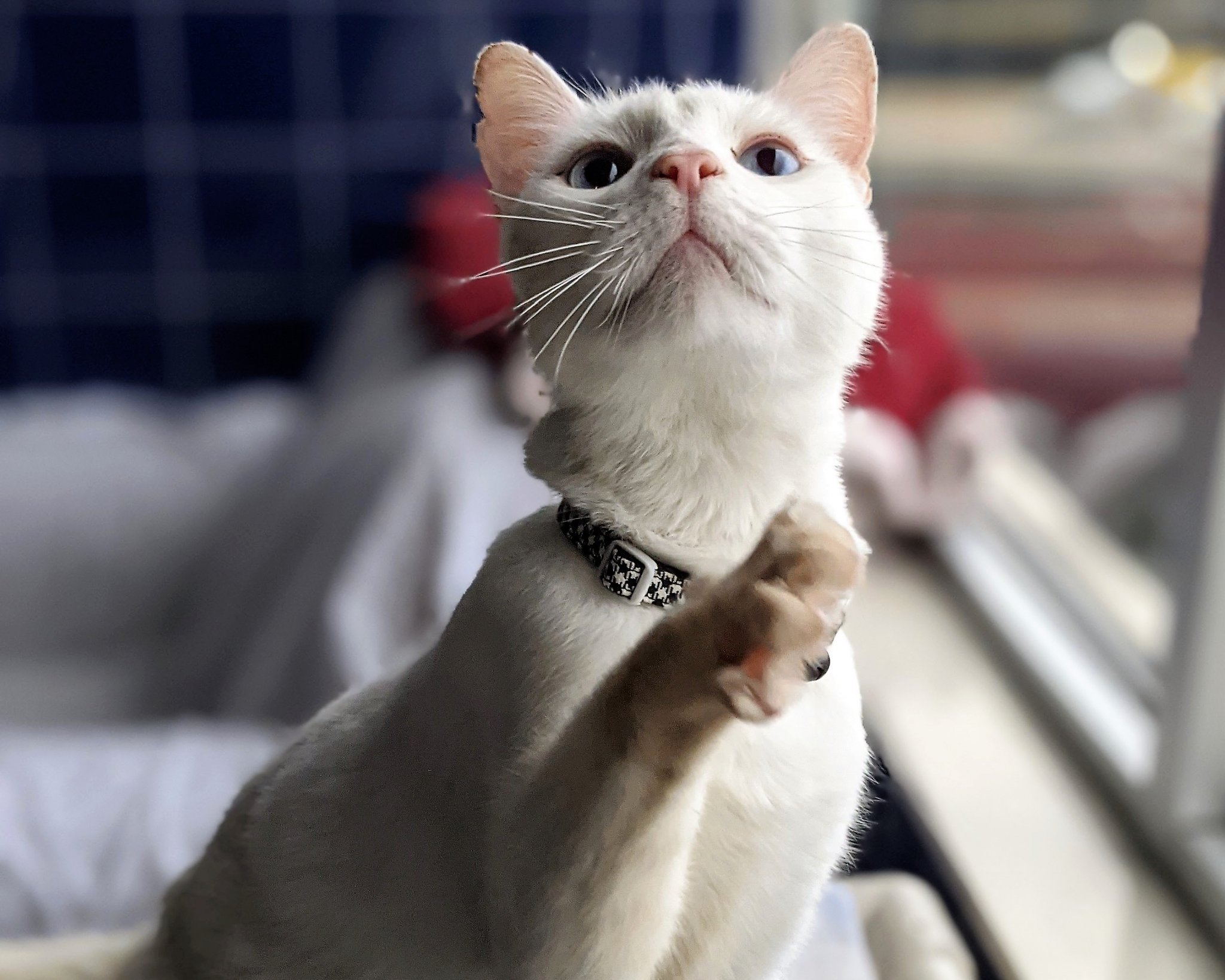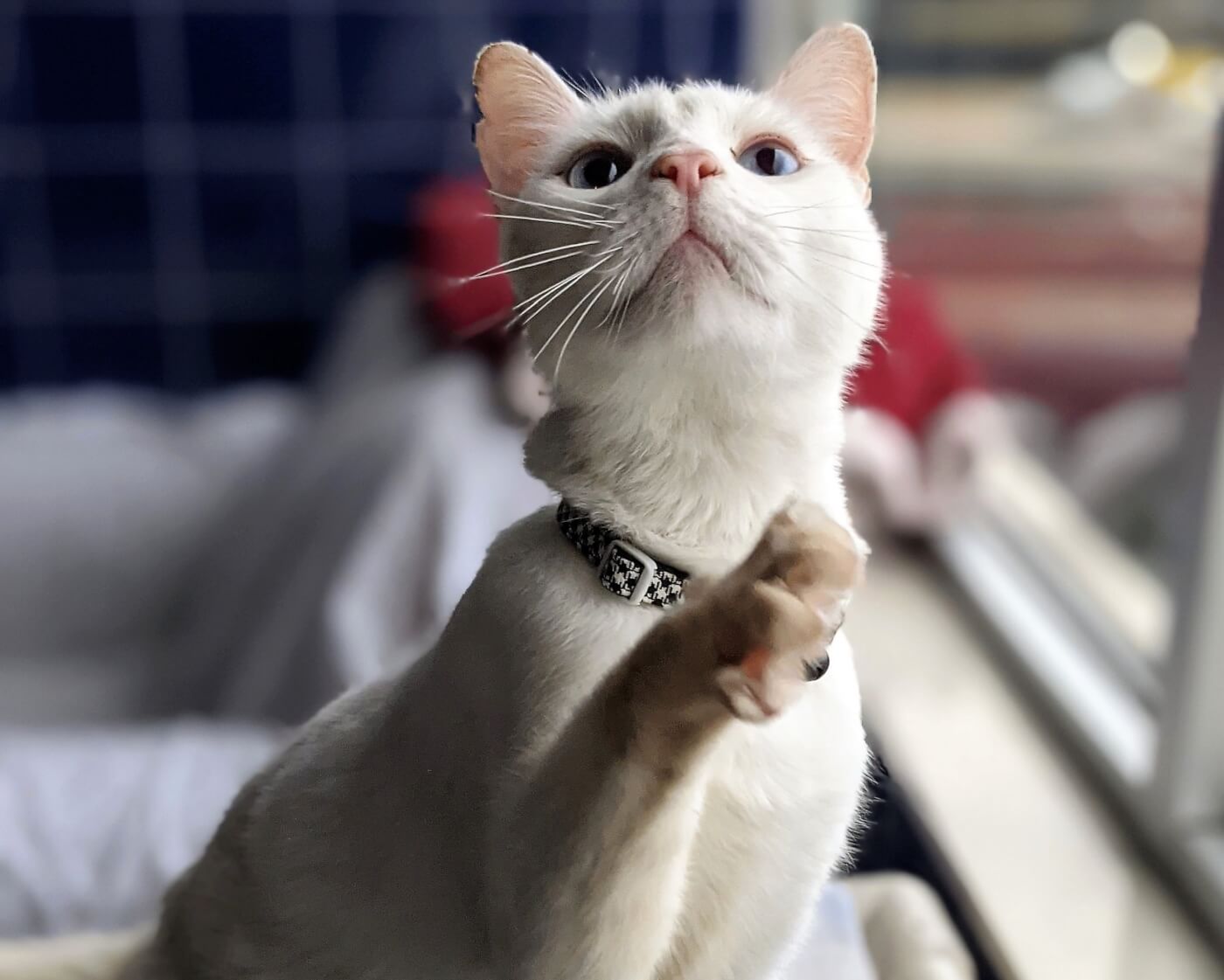 This feline singer-songwriter doesn't need a barstool or a microphone. All he wants is a permanent residency at a venue where he'll be able to sing his unchained melodies outside the bars of a cage.
Help give Desmond a reason to sing an ode to joy by composing an e-mail and sending it to [email protected].