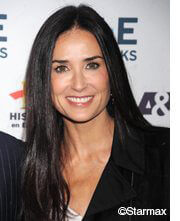 Demi Moore is making a decent proposal to the Fulton County, Georgia, Board of Commissioners. The actor is urging boardmembers to vote in favor of a proposed ban on bullhooks tomorrow. In her letter, Moore explained how elephants used in circuses are beaten bloody with the sharp instruments to force them to perform tricks that are unnatural and meaningless to the animals.
Today, elephant sanctuaries and most zoos―including Zoo Atlanta―never use bullhooks or other weapon-like tools to punish elephants … I hope you will extend that inherent decency to elephants used in circuses. I urge you to ban bullhooks. The elephants deserve our kindness, respect, and protection.
Join Demi Moore in showing the Fulton County Commissioners that there is widespread disgust over cruel bullhooks.

Written by Michelle Kretzer