When development in Williamsville, New York, encroached on deer's habitat, the animals were forced to navigate across a historic cemetery and its spiked wrought-iron fence—often with deadly results. In an effort to prevent deer from dying after being impaled on the spikes, Animal Allies of Western New York lobbied city and cemetery officials to modify the fence, but the group became bogged down in finger-pointing.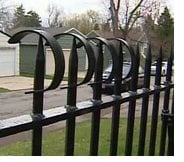 Concerned residents contacted PETA for help, and we asked lawmakers and the cemetery to open a dialogue about possible retrofits, including fence caps, that would cover the spikes and pass muster with the historic preservation society. In the end, officials and local activists agreed on an ornamental cap that is as humane as it is decorative. Animal Allies is collecting donations to pay for the fence caps.
If you ever come across an animal who is badly injured or suffering, please stay with the animal and immediately report the situation by calling 911. Consider asking property owners in your community to retrofit wrought-iron fences to make them wildlife-friendly. If you get stymied, contact PETA for assistance.

Written by Michelle Sherrow