Starting with Tricky Dick, every president in office has issued proclamations supporting America's "sportsmen and women," i.e. wildlife killers. President Obama recently followed suit by naming September 26 "National Hunting and Fishing Day."
In response, PETA president Ingrid E. Newkirk has asked President Obama to declare a "National Wildlife Amnesty Day" in honor of the 95 percent of us who prefer to shoot wildlife with cameras, not guns. That's right: Only a puny 5 percent of Americans stalk, maim, and slaughter deer, bears, and other animals—and many former fishers have cast their rods aside after learning that fish sea kittens feel pain.
Folks, "wildlife management" and "conservation" are euphemisms used to describe programs that ensure inflated numbers of animals for hunters to harass, maim, and kill. If left alone, animal populations would regulate their own numbers. Those who truly care about wildlife donate money to save habitats—without expecting a dead body as a trophy in return.
I can think of a handful of descriptors for these men, but "conservationists" isn't one of them.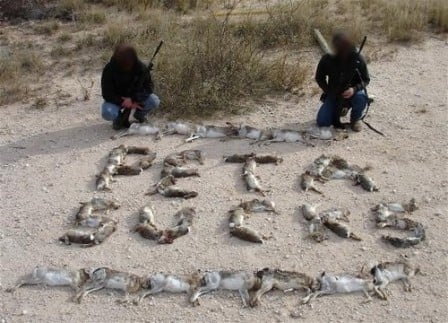 Written by Karin Bennett