Update 12/22/2008: Donna Karan has announced that her fall 2009 lines will be fur-free and that she has "no plans" to use fur in the future! Read more.
Today, pajama-clad PETA members paid a visit to Donna Karan at her Intimates and Sleepwear Fashion Show in New York, wielding signs that read, "We're Tired of Your Fur."
Why won't PETA let Karan rest? Because the flip-flopping designer once promised to stop using fur in her designs but has since broken that promise and now uses lots and lots of dead rabbits to line her coats. PETA wants Donna to return to her pre–bunny butcher days and opt for cruelty-free materials instead.
What happens to rabbits and other animals killed for their skin is simply hideous. Animals in the wild are trapped, drowned, or beaten to death, and animals on fur farms are killed by gassing, electrocution, or cervical dislocation (neck-breaking).
Donna's bunnies are probably from a source that does neck-breaking, but whatever the method, we're betting that it's no fun for the bun. And many poor bunnies are even skinned alive in a business that sees them as nothing more than trim and linings. Some people just don't get the horror of the fur industry until they see it for themselves, so please show this video to as many people as you can.
Many top fashion designers—including Calvin Klein, Stella McCartney, Ralph Lauren, and Tommy Hilfiger—are 100 percent fur-free. Gucci is on the way—they have agreed to not use seal fur (ask them to stop using all fur here).
If you didn't make it to the protest in New York, you can definitely still help PETA and our campaign to urge Donna Karan to stop using fur in her designs.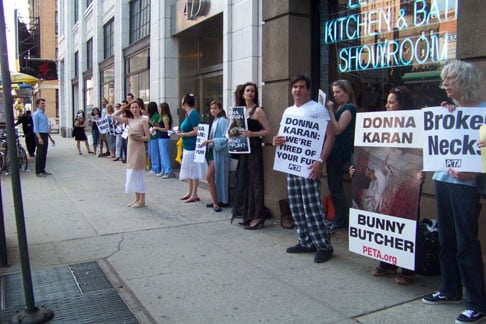 Big thanks to everyone who came out to the demonstration!