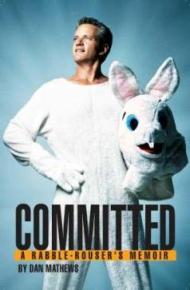 … Well, a number of dates. Dan Mathews' last cross-country book tour was such a big hit that he's doing a whole new one. Sometimes I wonder whether the guy doesn't enjoy sitting around the office and going to endless meetings as much as the rest of us do. There was a nice little piece about Dan in The Windy City Times last week, and another great one in the latest issue of Ocean Drive magazine, which, annoyingly, I can't link to because they didn't put it up on their website. I'm not sure I fully understand how people "read" stuff these days if it's not on the Internet, but they presumably have some kind of system.
Anyway, here's the schedule for Dan's book tour in case you live in one of these cities, and even if you don't, you can order a copy of Committed here. It's a very funny piece of literature. And it's got some good stuff in there about animals.
Tuesday, July 24
Atlanta
Borders Atlanta-Buckhead
3637 Peachtree Rd NE
Atlanta, GA 30319
7:30 PM
Wednesday, July 25NashvilleDavis Kidd BooksellersThe Mall at Green Hills2121 Green Hills Village DriveSte 281Nashville, TN 372156:00 PMMonday, July 30PittsburghJoseph-Beth Booksellers2705 E. Carson StreetPittsburgh, PA 152037:00 pmWednesday, August 1DetroitBorders34300 WoodwardBirmingham, MI 480097:00 PMThursday, August 2AustinBookPeople603 N. LamarAustin, TX 787037:00 PMFriday, August 3Hastings1306 W. Davis St.Conroe, TX 773047:00 pmTuesday, August 7TampaBarnes & Noble11802 N. Dale Mabry HighwayTampa, FL 336187:00 PMThursday, August 9OrlandoBorders600 North Orlando AveWinter Park, FL 327897:00 PMMonday, August 13Minneapolis Magers & Quinn3038 Hennepin Avenue SouthMinneapolis, MN 554087:30 p.m. Monday, August 27St. LouisLeft Bank Books399 N. EuclidSt. Louis, MO 631087:00 p.m.