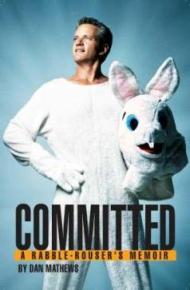 Dan Mathews' book, Committed: A Rabble Rouser's Memoir, is finally out, and it kicked off with a great piece in USA Today this morning. Our Dan has been working a very long time on this book, so it's really gratifying to see it get such a great reception all over the place. This thing is seriously gonna be huge. Plus, all the good reviews mean that the guy is just a pleasure to be around at the office—provided it's after 10 a.m. and you've had a cup of coffee or two to help you deal with all the optimism and general cheeriness emanating from his person. You can read Dan's USA Today interview here, but this was my favorite little bit:
Q: Your press material calls PETA "one of the most enduring, powerful and annoying pressure groups in the world." I suspect you like the world annoying.

A: When you're a pressure group and you want to be popular, you're bound to fail. But we're taking on corporations, and our currency is being annoying.
It ain't easy annoying the hell out of nasty corporations, but someone's gotta do it, and Dan Mathews is a natural. If you want to hear him talk about his experiences in person, he's going on a book tour next week, and you can check his MySpace page for dates and locations. And if you do run into him at one of his booksignings, be sure to make him tell you the story about the priest costume.