One of the recent perks of being a PETA employee is access to advance chapters of the new book by PETA's globe-trotting VP, Dan Mathews. The book, entitled Committed: A Rabble-Rouser's Memoir, doesn't come out until April, but I've been enjoying the hell out of the little bits and pieces I've been able to coerce Dan into sending me. Here's an excerpt from his account of the inaugural tour of our vegetarian mascot, Chris P. Carrot:
With my feet in his clunky, white shoes, Mr. Carrot stands over seven feet tall. … He holds a poster that reads "Eat Your Veggies-Not Your Friends" (we thought of going with "Eat Me" but thought again). Completing the ensemble is a pair of fluorescent orange panty hose, which, sadly, wouldn't stretch to the top of my lanky legs. As PETA's campaigns chief, I don't ask anybody to do anything I wouldn't do myself. Since I cooked up this junket, it was my duty to give the flame-colored mascot a test drive in order to work out the kinks for future carrots. My comrade was recently hired campaigner Tracy Reiman, a chipper gal from Georgia, who I was training. On her first business trip, she had to rise at dawn to help her new boss morph into a reject from the land of H.R. Pufnstuf. Tracy also became the carrot's official spokesperson; the voice I had developed for Chris P. Carrot, a hybrid of John Wayne and Pee Wee Herman, triggered panic-stricken shrieks and projectile tears from second graders, so we decided on the spot that the carrot should be mute. …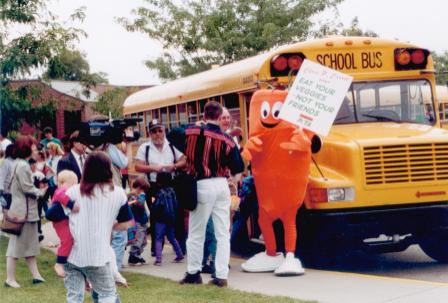 Our initial goal was simply to score equal time to tax funded talks in which the U.S. Department of Agriculture beguiles a captive audience of kids about how meat and milk is produced, using carefree materials such as the "Peace & Plenty Farm" coloring book. … Students are not informed that the animals are kept in such cramped conditions that factory farmers routinely cut off their horns, slice off their beaks, and grind down their teeth to keep them from mutilating each other. When schools refused our offer of a more realistic classroom presentation, we announced that we'd bring the news to kids just off campus, courtesy of PETA's zany decoy, Chris P. Carrot, whose blazing orange leaflets contained all the grim facts that were omitted from meat trade handouts. The story exploded throughout Cattle Country.

For many years I pushed campaigns which appealed to people's intellect and compassion. But as cable TV and the Internet helped mold an escapist society hungrier for entertainment than education, serious topics began taking a backseat to scandal and sensation, and we at PETA had to dream up flashier ways to vie for people's attention. … Although I lament the loss of serious public discourse, I've easily adjusted to the new rules because I am, at heart, a very silly person.

As a chubby adolescent too bashful to undress in the locker room, I couldn't have predicted that I'd spearhead a campaign called "We'd Rather Go Naked than Wear Fur," be hauled to jail nude on three continents. Or that I'd conduct business at a skinny-dipping party at the Playboy Mansion. Or that I'd impersonate a priest to crash a fashion show in Milan, don a cow costume to storm a cattleman's convention in Denver, and argue whether Jesus was a vegetarian in the solemn office of the Archbishop of Turin. I've picked up the phone to get an angry earful from Madonna when I spoke out against her bullfighting-themed music videos. I've also picked up the phone to hear Sir Paul McCartney insist we take the rest of the day off when we successfully pressured McDonald's to stop buying meat from slaughterhouses that fail USDA inspection.
There's a pretty fun series of interviews with Dan that's been making the rounds, which you can check out here. For what it's worth, our Legal Department wants me to warn you that (in no particular order) you will explode, your eyes will pop out, and your brain will boil in your head if you watch this, since it may have been put up on YouTube without permission. Enjoy!