When Star Wars actor Daisy Ridley learned about the University of Massachusetts–Amherst's (UMass) invasive experiments on marmosets—which are absurd attempts to study menopause in humans—she wrote an urgent letter to the university's chancellor, blasting the experiments and urging the school to use only non-animal research methods.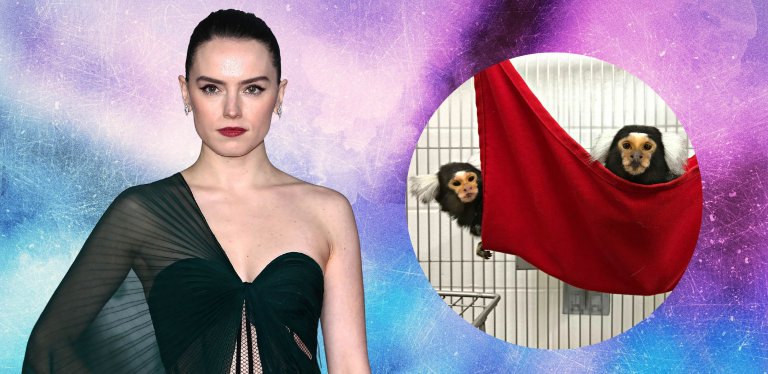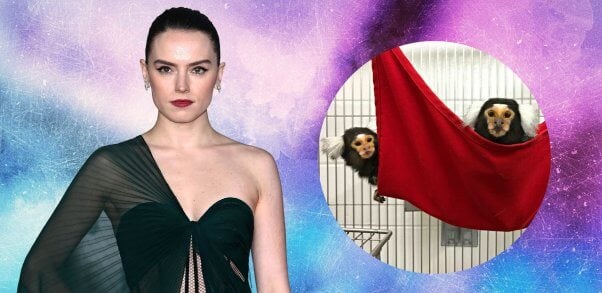 © StarMaxInc.com
And as if Daisy weren't fired up enough already, the experimenters named the marmosets they tortured and killed after beloved Star Wars characters—including her own, Rey. But unlike her namesake, that marmoset had no chance of surviving the dark side.
I was appalled to learn that tiny marmoset monkeys are being harmed in bizarre menopause experiments conducted at your university. I'm especially saddened to hear that these animals have been named after characters from Star Wars. I obviously have a deep connection with this franchise, and it breaks my heart to hear that the names of Luke Skywalker, Princess Leia, and several other beloved characters are now associated with such cruelty.

—Daisy Ridley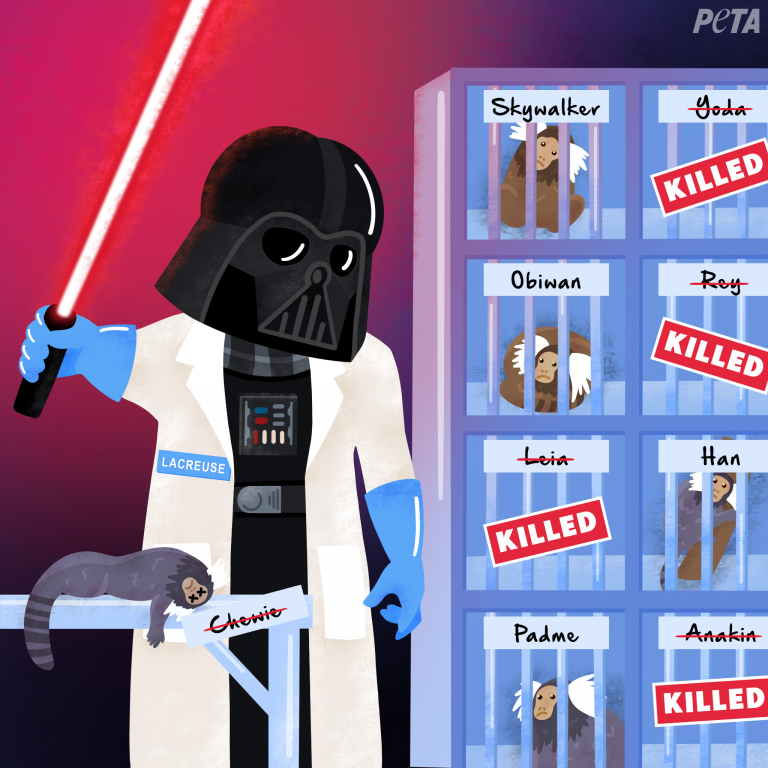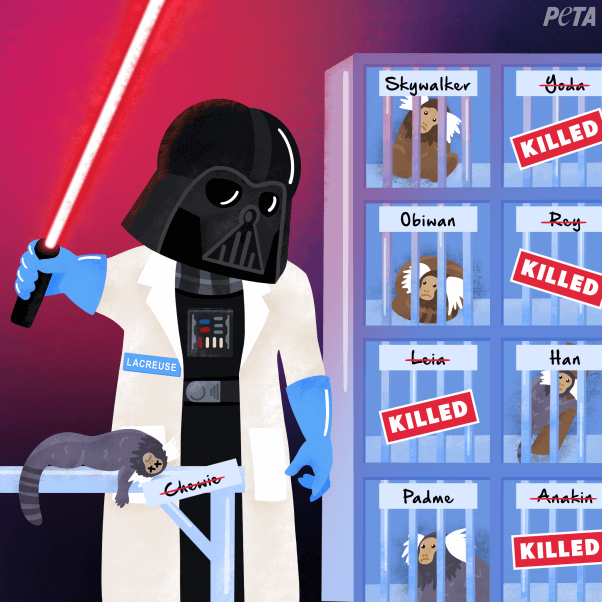 Another monkey, Anakin, was bolted to the bed of an MRI machine for hours at a time so that UMass experimenters led by Agnès Lacreuse could evaluate the effects of aging on his brain. They subjected him to "cognitive testing" up to five days a week—taking away his water so that he'd be forced to cooperate just to get a small sip of liquid. After years of these frightening and disorienting tests, they killed him.
Lacreuse performs multiple invasive surgeries on female marmosets. She implants electrodes in holes that she drills into the animals' skulls. Then she cuts into their necks and threads electrode leads from their scalp and neck through to their abdomen.
Marmosets don't experience menopause, so Lacreuse attempts to fake it in the monkeys she exploits. For example, she surgically removes their ovaries and then uses hand warmers on the monkeys to mimic hot flashes—yes, hand warmers, like the kind you put in your mittens in January. She subjects the vulnerable animals to stressful social isolation tests and mimics sleep disruption by blasting them with loud noises every 15 minutes throughout the night. This isn't science. Yet the federal government has handed Lacreuse $4 million in taxpayer money to play scientist.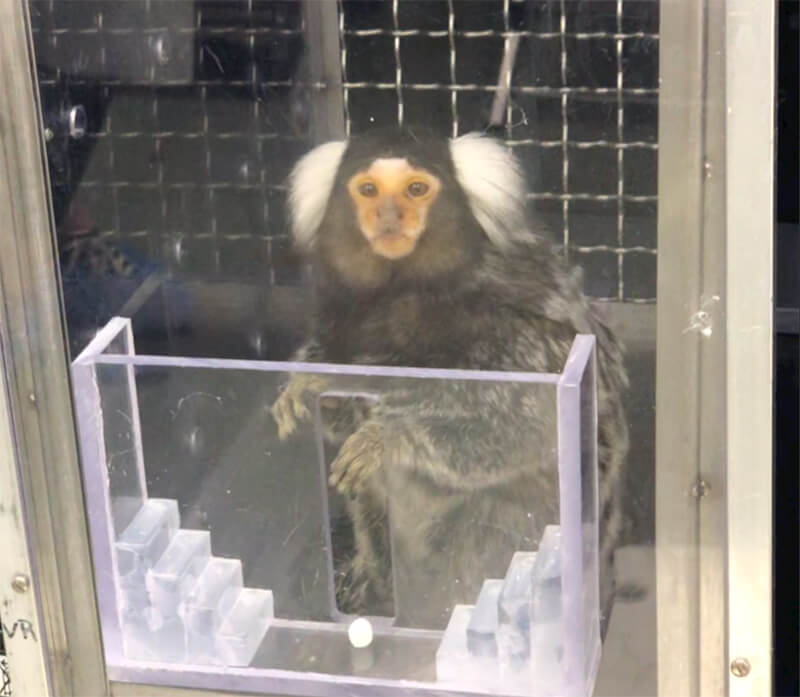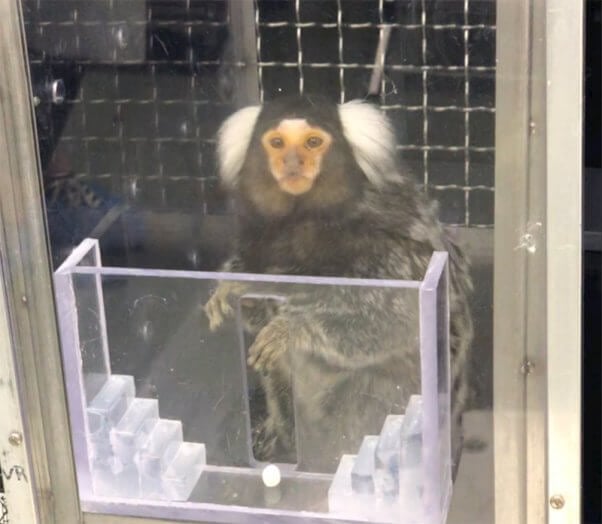 Obtained by PETA through public records law
It seems that UMass fears the justifiable outrage that would arise if taxpayers were to find out what Lacreuse is doing to these gentle monkeys with their money—so much so that it appears the school is willing to break public records laws in order to try to hide the truth. PETA recently filed a lawsuit to compel the university to release records we had requested, which—in apparent violation of Massachusetts Public Records Law—UMass has so far failed to provide in full.
Join Daisy in Urging UMass to Ditch Crude and Painful Tests on Marmosets
The human-supremacist view that monkeys are commodities to be bred, tormented, and disposed of at will is unacceptable. In her letter, Daisy calls on the university's chancellor to make the compassionate decision to end the experiments, release the marmosets to a sanctuary, and direct resources toward superior, human-relevant, animal-free science—and you can, too: