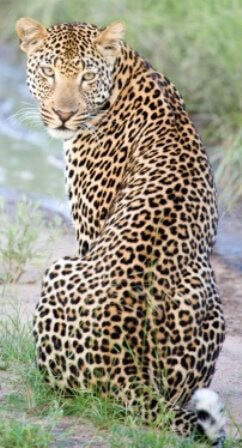 © Peter Malsbury | iStockphoto.com
Less than two weeks after four dozen wild and exotic animals were shot to death in Zanesville, Ohio, there's still somebody out there who didn't get the message that privately owning exotic animals is a recipe for disaster—and that somebody is Marian Thompson, the wife of the man who owned (and released) all the animals in the first place. Ms. Thompson is demanding that four of the six survivors—a grizzly bear and three leopards—in temporary quarantine at the Columbus Zoo, be returned to her immediately.
PETA has sent urgent letters to the U.S. Fish and Wildlife Service (FWS) and the Muskingum County prosecutor imploring them not to return the animals until investigations into whether the animals were harmed or harassed in violation of the Endangered Species Act and/or Ohio's anti-cruelty laws are conducted. It appears that the animals may have been obtained without proper permits in the first place and that they were kept in filthy conditions with insufficient food, water, and/or shade—all violations of the law. On top of it, public records indicate that there are nearly $70,000 in liens hanging over Ms. Thompson's head, leaving her ill-equipped to properly take care of the animals.
While we continue to fight to keep the survivors safe, you can help by e-mailing the Ohio Department of Natural Resources to politely urge the agency to exercise its authority to implement emergency regulations to prohibit the keeping of exotic and wild animals.
Written by Amanda Schinke