The design for our pothole ad, which doesn't promote torturing chickens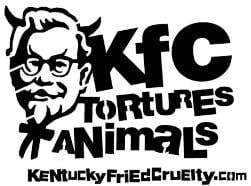 You may have heard about this already: KFC is offering to fund pothole repair in five U.S. cities in exchange for ads promoting the decomposing bird bits that the company sells at its fast-food outlets.
KFC even hired a Colonel Sanders lookalike for the kickoff of the program in its hometown of Louisville.
KFC might concentrate instead on improving conditions for the chickens it abuses, but it won't, so we're offering to double the money that KFC offered the City of Louisville—if the city will use our ads against KFC cruelty on its potholes instead. After all, drivers have a right to hear the chickens' side of the story—and it isn't pretty.
Written by Jeff Mackey