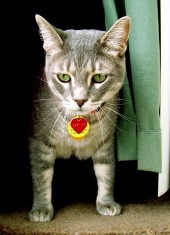 If you're looking for a good time, or maybe just an entertainment center, Craigslist is usually a great place to start. But there's a really worrying side to the online community that has directly facilitated a number of extremely disturbing cases of cruelty to animals.
Craigslist's "free to a good home" ads seem innocuous at first glance, but the fact is that giving away animals over the Internet to anyone who so much as expresses an interest is just unbelievably irresponsible, and Craigslist's ads have resulted in such hideous animal abuse cases as the recent torture and mutilation of three gray tabbies in Austin, including a 3-year-old cat named Taylor (pictured), who were evidently obtained through one of these "free to a good home" ads.
PETA has been begging the company for years to implement a policy prohibiting these ads for exactly this reason, but thus far Craigslist has done nothing beyond posting a mild warning about giving away animals on their site. So we're stepping it up a notch. If you have a moment, please click here to tell Craigslist to immediately ban these ads from its site before the company sees another incident like the Austin case.