PETA's involvement in the Texas Wildlife Center—formerly known as Amarillo Wildlife Refuge (AWR)—goes back years and continues this week. A county resident has filed a 13-page petition against Potter County Sheriff Brian Thomas asking the court to compel him to immediately revoke the Amarillo-based menagerie's certificates to keep dangerous wild animals, including tigers and chimpanzees. The Texas Dangerous Wild Animal Act requires that the sheriff "shall revoke" the certificates any time that a holder violates the act.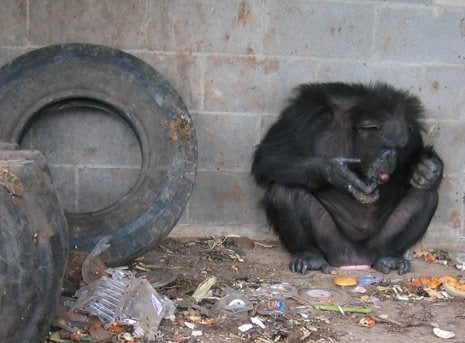 PETA's undercover investigator documented animals like Alex living in dungeon-like enclosures at AWR, surrounded by garbage.

The menagerie's repeated violations include failure to report attacks on humans within 48 hours; failure to report the whereabouts of six tigers, two cougars, a lion, a jaguar, and two chimpanzees; failure to possess liability insurance; and failure to maintain current registrations for dangerous animals.
Owner Carmel Azzopardi has repeatedly violated the federal Animal Welfare Act and was convicted of violating the Endangered Species Act. In March 2009, the U.S. Department of Agriculture terminated AWR's license after Azzopardi pleaded guilty to four counts of selling and transporting endangered animals across state lines. He was sentenced to 180 days of house arrest, three years' probation, and a $2,000 fine.
As long as people are allowed to exhibit wild animals and keep them as "pets," these animals will continue to suffer. Contact PETA's Action Team for materials that take you step-by-step through the process of banning the keeping of exotic and dangerous animals in your town or city limits.

Written by Jennifer O'Connor