The 65th Primetime Emmy Award nominations were announced today, and PETA is thrilled to extend our congratulations to our favorite kind nominees! Check out the lineup below:
Peter Dinklage
Peter may live in a violent world in the hit HBO show Game of Thrones, but he's an animal lover through and through in real life. Peter is a proud vegetarian. Congratulations to Peter for his nomination for Outstanding Supporting Actor in a Drama Series!
Edie Falco  
We love Edie's role on Nurse Jackie, and we know that if animals had a vote, they'd surely make sure that she wins for Outstanding Lead Actress in a Comedy Series. See her speak up for elephants and explain why we should all boycott the circus.
James Cromwell
James is part of the outstanding ensemble of American Horror Story, and he's earned the nomination for Outstanding Supporting Actor in a Miniseries or a Movie. Don't be mistaken: James may have played a terrifying "doctor" on the show, but he truly has a heart of gold. See his message on how to stop the cycle of animal abuse here!
Jane Lynch
Jane Lynch is nominated for Outstanding Supporting Actress in a Comedy Series for her role as TV favorite Sue Sylvester on Glee. Congratulations to her, and we thank her for using her voice to speak up on the importance of spaying and neutering animals!
Bill Maher
Kudos to PETA friend Bill Maher for the nomination of his show, Real Time With Bill Maher, for Outstanding Variety Series! See his video for PETA here:
Tim Gunn
Our favorite TV host, Tim Gunn, is up for the award of Outstanding Host for a Reality or Reality-Competition Program! He is a fashionista who knows how to "make it work" without being cruel to animals.
Alec Baldwin
Congrats to Alec for his nomination for Outstanding Lead Actor in a Comedy Series for his work on 30 Rock! He may be all laughs on TV, but he knows when to speak out about pressing issues, too. We thank him for helping PETA to shed light on the topic of cruelty to animals in entertainment.
Mayim Bialik
What's your favorite part of The Big Bang Theory? Mayim Bialik, of course! Hurray for Mayim for her nomination for Outstanding Supporting Actress in a Comedy Series! PETA salutes her!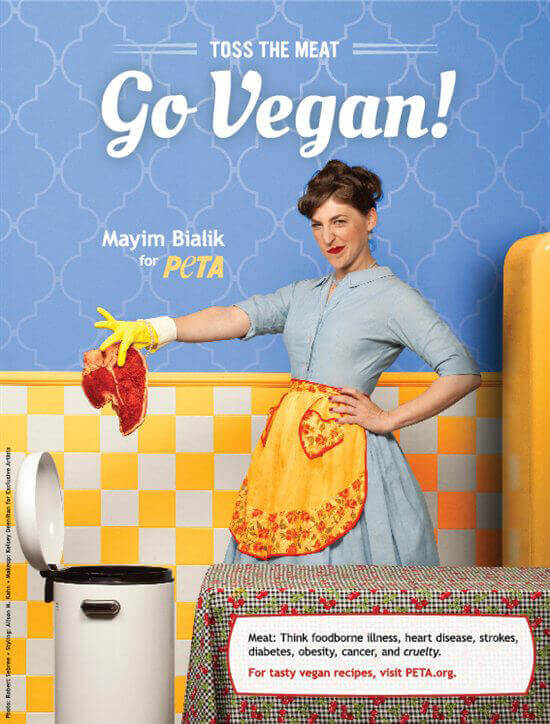 PETA thanks the kind nominees for all that they do to make a difference for animals! We wish them all good luck in September.