There's a whole lot of cruelty-free fashion in store for men and women at everybody's favorite mall retailer, Express, ever since the release of its fall (Minus the) Collection, which includes sexy skirts, fabulous footwear, outrageously chic outerwear, and much, much more that is clearly, Expressly free of fur, wool, and skins.
Express has long been fur-free—and for extending its compassion to cows, sheep, snakes, and other animals by creating these skin-free fashions, the Columbus-based company has received PETA's Proggy Award for "Most Compassionate 2010 Fall Clothing Line."
Shopaholics, if you ever felt that you had to justify a new purchase, know that adding pieces from (Minus the) Collection to your wardrobe will assure Express—and the other retailers who will eye the consumer response to this line—that compassionate fashionistas crave cruelty-free styles. Please thank Express—and "like" the company's post about the Proggy Award on its Facebook wall.
Decisions, decisions…Which (Minus the) fur embellished vest should I get? Both!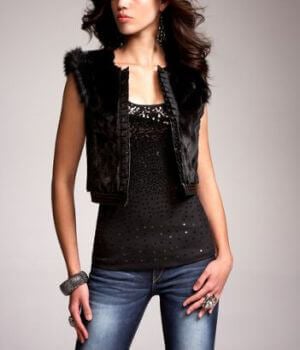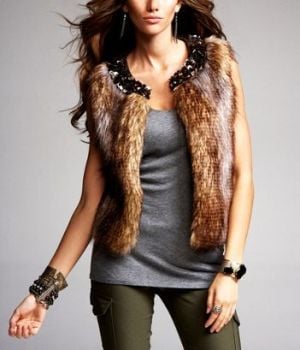 Now, I'll race you to the checkout line: Ready … set … shop!
Written by Karin Bennett