After PETA shared a horrifying video exposé of China's badger-brush industry with Procter & Gamble – which owns The Art of Shaving – it quickly agreed to stop sourcing badger hair immediately.
Breaking news: P&G does the right thing & says no more badger hair brushes. On badger-hair farms in China, PETA saw a badger beaten with a chair leg before being slaughtered for her hair. They're confined to small barren cages, and were injured & stressed. https://t.co/amvNzByhTw pic.twitter.com/W2SVVxVpIV

— Ingrid Newkirk (@IngridNewkirk) September 19, 2018
Since hearing from PETA, 100 brands have said NO to this bloody business, including Edgewell Personal Care, the owner of brands such as Wilkinson Sword, Schick, and Skintimate.
1Beauty.us
Baxter of California
Beau Brummell
Beauty4Pros
Bestt Liebco
Bevel
Bob Ross, Inc.
Bonanza
Braun Brush
Bulldog
Caswell-Massey
Claudio Riaz
Cremo
Crown
Czech & Speake
The Executive Shaving Co.
Fine Accoutrements
Floris London
FM Brush Company
French Kiss Cosmetics
Garden City Essentials
GENTS/GBS
The Good Liver
Grooming Lounge
Jack Black
Kent Brushes
LovelySkin
MinWax
Morphe
My Makeup Brushes
NARS Cosmetics
The New York Shaving Company
Olivina Men
Overstock.com
Penhaligon's
Personna
Phoenix Shaving
Pomades
Procter & Gamble (The Art of Shaving)
Prospector Co.
Purdy
Royal Brush Manufacturing
RoyalShave
Schick
SHANY Cosmetics
Sherwin-Williams
Silver Brush Limited
Skintimate
The Stache
The Executive Shaving Co.
The Good Liver
The New York Shaving Company
The Stache
The Vermont Country Store
Unique Bargains
Universal Beauty
Valspar
Van Der Hagen
The Vermont Country Store
Wilde & Harte
Wilkinson Sword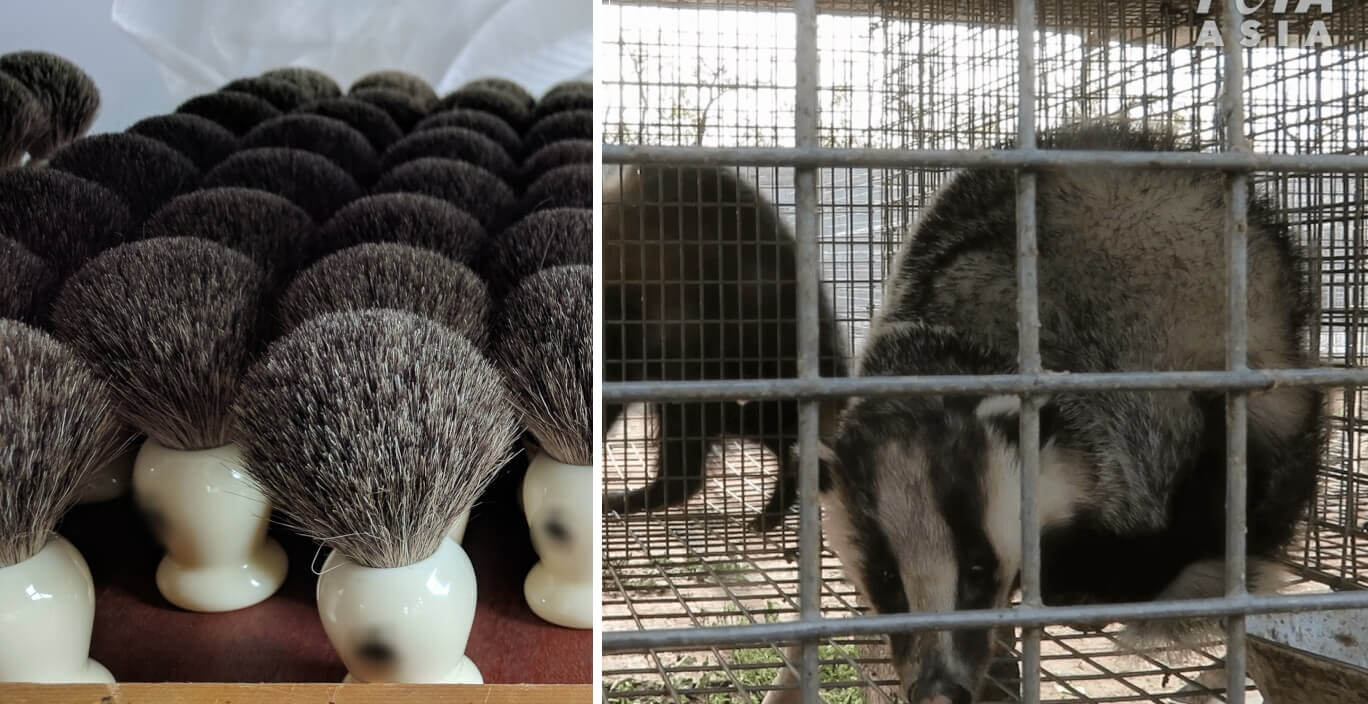 PETA's exposé—which is the first of its kind—shows badgers on the farms held in tiny wire cages exposed to the elements. The stressful conditions often caused badgers to exhibit behavior patterns indicative of severe psychological distress, such as pacing back and forth. Many badgers suffered from untreated injuries, and one was even missing a foot, which the farm owner attributed to a fight with another badger caged nearby.
At the slaughterhouse, workers beat crying badgers over the head with anything that they can find, including a chair leg, before slitting their throats. One animal continued to move for a full minute after their throat was cut.
Badgers are extremely social animals who, in nature, construct elaborate underground burrow systems, some of which are centuries old and have been inhabited by many generations of the same clan. They are fastidious and have separate rooms for sleeping and giving birth as well as designated outside "bathroom" areas.
Sure, humans may look different from badgers, but when it comes to the ability to feel excitement, create family bonds, cherish life, and experience pain, we're all the same. They are individuals who deserve to live their complex lives on their own terms, not inside a prison cage while awaiting death. Their skin, fur, and hair belong to them alone.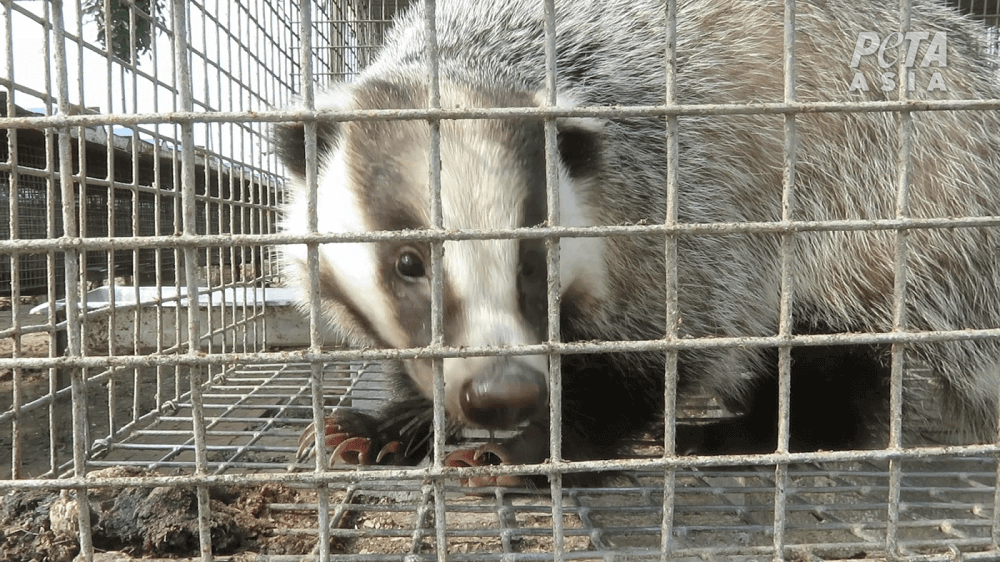 You Can Help Save Badgers Right Now
There's no justification for stealing others' hair to make brushes. For the sake of badgers suffering on farms, please, buy only cruelty-free, synthetic brushes. Click the button below to urge Dick Blick Art Materials to drop badger-hair brushes immediately in favor of cruelty-free synthetic ones.