Update: The U.S. Department of Agriculture has ordered Cole Bros. to pay a $15,000 penalty for its numerous violations of the Animal Welfare Act.
After receiving complaints from PETA about the cruel and neglectful treatment of elephants Tina and Jewell, the U.S. Department of Agriculture has now formally charged Cole Bros. Circus  and its owner, John Pugh, for numerous violations of the Animal Welfare Act, including the following:
Failure to provide adequate veterinary care to an underweight elephant with a protruding spine and emaciated body
Failure to employ personnel who were adequately trained and capable of caring for the elephants
Transferring elephants, against the recommendations of an elephant specialist, to an unlicensed exhibitor who lacked the skills and training to adequately care for them
Failure to provide adequate enclosures for the elephants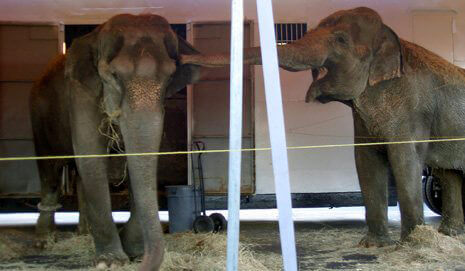 In addition, Cole Bros. Circus and Pugh were charged with exhibiting animals without a license, employing a tiger handler who lacked adequate training, and illegally dealing in tigers.
The charges follow the seizure of Jewell and subsequent surrender of Tina in 2009 after the circus was slapped with a $150,000 fine for illegally selling the elephants in violation of the Endangered Species Act. Tina and Jewell were rehomed at a zoo, which, while not ideal, is a considerable improvement over being trucked across the country in chains and cramped, stuffy trailers.
Wherever the circus goes, you can bet that animal suffering goes with it. Please leave these cruel shows off your summer itinerary and choose animal-free circuses instead.
 
Written by Michelle Sherrow