Huge progress for horses in California! Following a presentation last December from PETA Senior Vice President Kathy Guillermo, who shared findings from PETA's undercover investigation into bush tracks with the California Horse Racing Board, a groundbreaking regulation was passed to prevent jockeys, trainers, and owners from participating in or even attending illegal races. With this measure, California has become the first state in the nation to ban its licensees from attending unsanctioned Quarter Horse races.
Underground Horse Racing Should Have No Platform
This footage is from PETA's undercover investigation into bush tracks in Georgia. More than 150 of these tracks operate all over the U.S.
A nearly yearlong PETA investigation in Georgia showed that fatal abuse is common at bush track racing events. We documented that horses are doped with methamphetamine, cocaine, and Ritalin, in addition to being electroshocked and savagely whipped. Horses and even one prominent jockey died, while bookies and bettors exchanged hundreds of thousands of dollars in apparently illegal gambling. More than 150 such tracks operate across the U.S., including eight in California.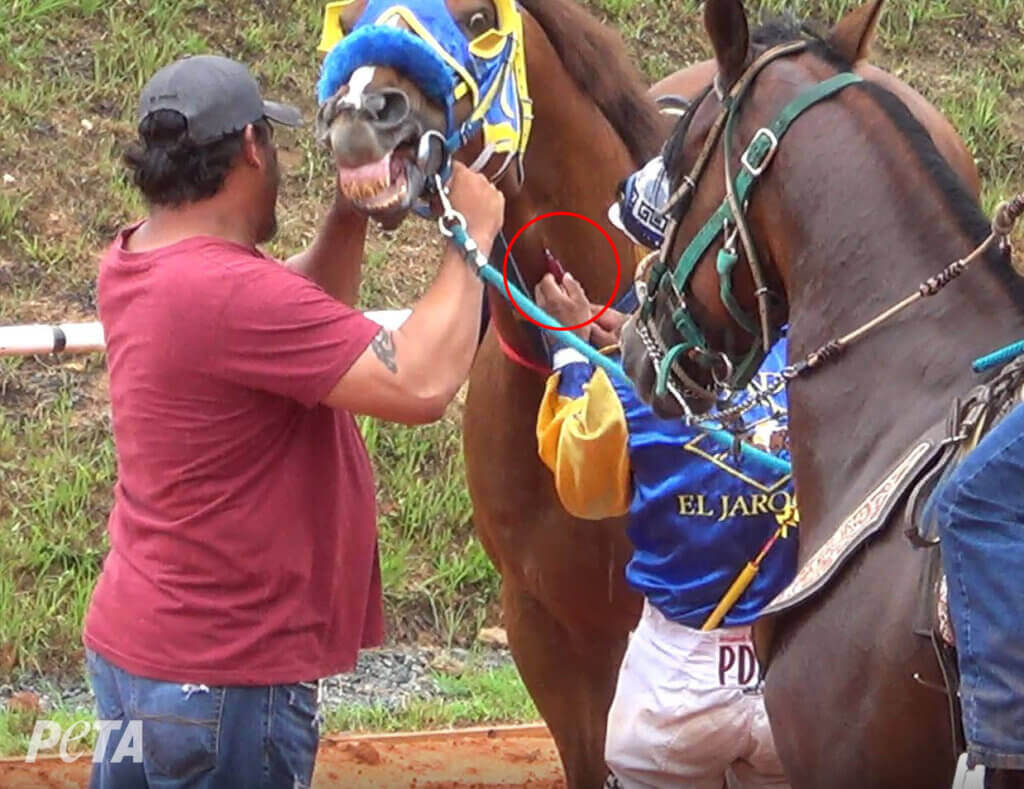 PETA took this evidence to California officials, and they amended Rule 1902, "Conduct Detrimental to Horse Racing," to prohibit licensees from "participation in, or presence at, any non-recognized race meeting where racing occurred." This means that California horse racing licensees (including trainers, jockeys, and owners) will be prohibited from attending or participating in bush-track races.
If a licensee is found to be participating in unsanctioned races, their horse racing license could be suspended in California for its term—effectively shutting them out from the sanctioned racing circuit. This is a huge step in protecting horses used at bush tracks as many of the jockeys who participate in these underground races also compete at the highest levels at regulated tracks, such as jockey Eduardo Nicasio, who won the Los Alamitos $2 Million Futurity in 2022. PETA applauds the CHRB for taking this important step to protect horses and urges other states to follow its lead and pass similar regulations
How You Can Help Horses
The abuse of horses comes in many forms. On a bush track or anywhere else, if you see anyone abusing horses used for racing, be sure to report it. PETA will take your request for anonymity seriously.
Please also join us in urging Gov. Brian Kemp to take immediate action to shut down unregulated tracks operating in Georgia.