Charlie and Diamond were huddled together, shivering and scared, when PETA fieldworkers found them locked in a wire crate on a porch in Halifax County, North Carolina. The wind chill was 21 degrees. Their owner refused to bring the "odd couple" besties—a Chihuahua mix and a pit bull mix—inside, despite the deadly danger of the freeze, but gave them to PETA when told that leaving them outside is illegal and that the sheriff would have to be called.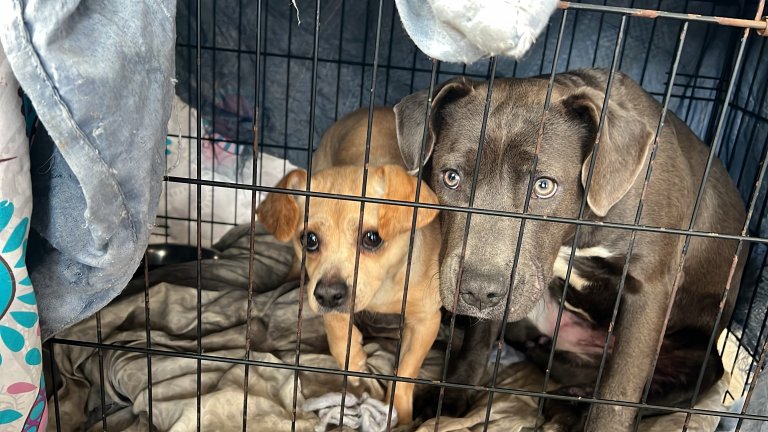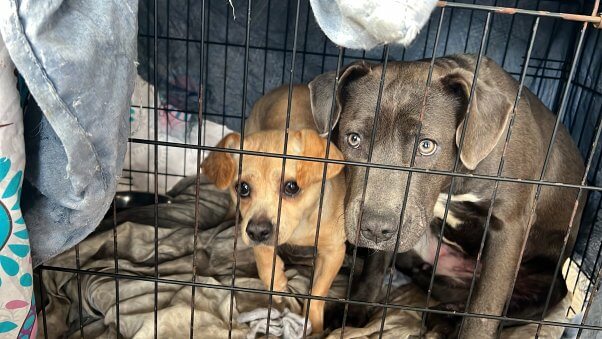 After warming up at PETA's Norfolk, Virginia, headquarters—the Sam Simon Center—the devoted duo were transferred to the Norfolk SPCA, where they're now in search of a loving home together.
Charlie's and Diamond's days of freezing, misery, and fear are gone, and PETA is grateful to the Norfolk SPCA for the opportunity to find them a family who will care for both of them properly.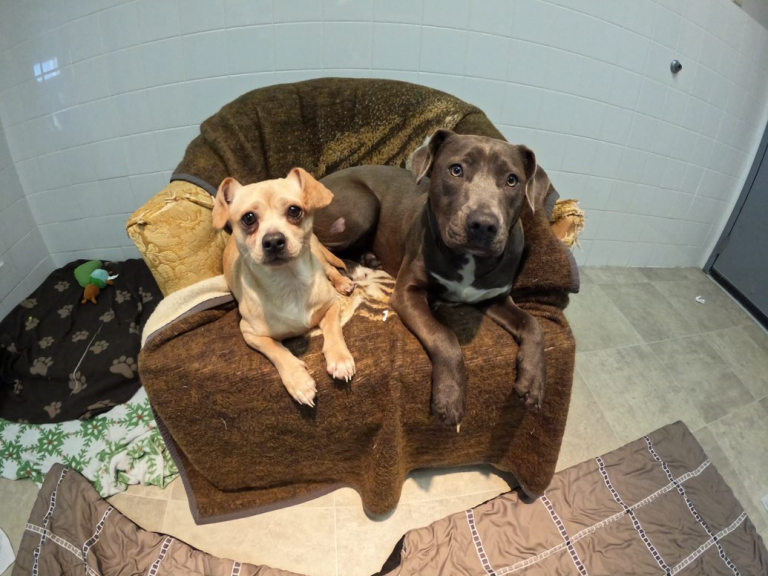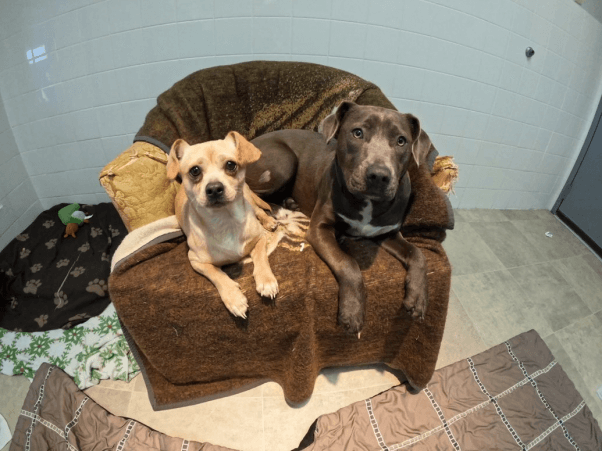 Their story shows why we must all keep our eyes peeled for dogs suffering and shivering out in the cold and call the authorities or PETA for help.
"If you're ready to get twice as much gratitude and love from this big and small dog combo, then Charlie and Diamond could be the perfect match for you. We're looking forward to finding them a new home where they can cuddle up for companionship instead of for survival."

—Kimberly Sherlaw, Executive Director of the Norfolk SPCA
With more below-freezing temperatures in the forecast—and countless dogs still shivering in yards throughout the region where Charlie and Diamond were rescued—PETA is rushing a new 30-second public service announcement starring New England Patriots linebacker Matt Judon to TV networks in the area. "My dogs are part of my family, and I would never leave my family outside," Judon says. "So bring your dogs inside and show them the love and respect that they show you."
Anyone who sees companion animals left outside without shelter from the elements should note their location and alert authorities immediately.
These animals can suffer from frostbite and exposure, become dehydrated when water sources ice over, and die. Cold weather and winter storms lead to multiple deaths, injuries, and rescues each year. (And most incidents aren't even reported.) While helping animals in northeastern North Carolina and southeastern Virginia, PETA's fieldworkers encounter countless dogs—mostly pit bulls like Diamond, whose short hair leaves them especially vulnerable to the cold—tethered with heavy chains, in which they can become entangled and die because they're unable to reach food, water, or shelter.