A driver in Alabama spotted Laura the chicken and scooped her up off the road on a route frequently used by trucks headed to the nearby slaughterhouse. Then, in an attempt to find her a home, she unwisely posted an ad for a free chicken on Craigslist. Laura could have ended up as chicken soup! Fortunately, a vegetarian PETA supporter spotted the listing and offered to take in the bird until PETA could find a permanent home for her. Now a chicken who was once bound for slaughter is saving other chickens by convincing people to give up meat for good. It happens whenever people get to know her.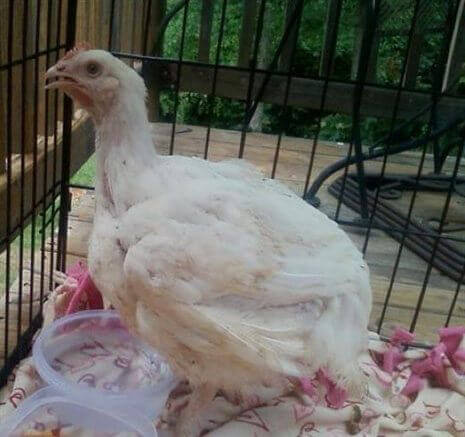 Laura when she first arrived at her foster home
In her foster home, Laura played in the yard, cooed while getting a bath, cuddled with her foster parents, and got to feel grass under her feet probably for the first time in her life. Laura's foster mom's mother even became so attached to her that she went vegetarian too!
Now, in her permanent home, Laura soaks up the attention that she invariably attracts when her adopter takes her out on walks around the neighborhood. Laura sticks close to her new family, especially her adopter's child, with whom she loves to nap.
If you're ready to stop eating devoted, social, inquisitive chickens like Laura, try PETA's Pledge to Be Vegan for 30 Days. We think you'll be hooked! 

Written by Michelle Sherrow