O, Canada! We're always busy, busy, busy during this festive season, but we haven't forgotten our pals in the Great White North—y compris nos amis francophones. Yanks and Canucks have so much in common, and yet there are distinctive differences. For example, while the yuletide finds a disturbing number of friendly, intelligent pigs on this side of the 49th parallel killed for ham, it's the saddest day of the year for abused factory-farmed turkeys in Canada. So PETA is encouraging Canadian kids (since kids haven't yet been taught to suppress their natural compassion for animals) to consider what—and who—they're eating. PETA has placed the attention-grabbing holiday billboard seen below on a highway leading into Victoria, British Columbia.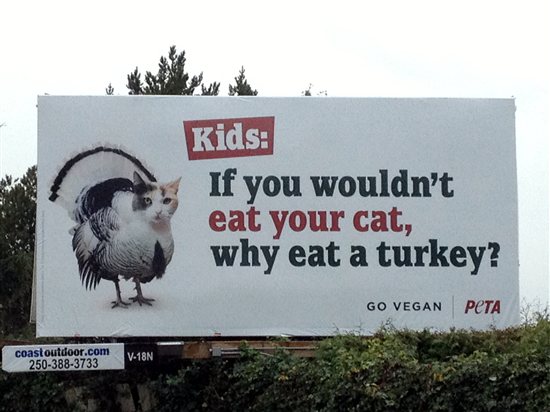 PETA's also giving U.S. kids something to chew on other than cruelly produced ham with this billboard, just outside Reno, Nevada.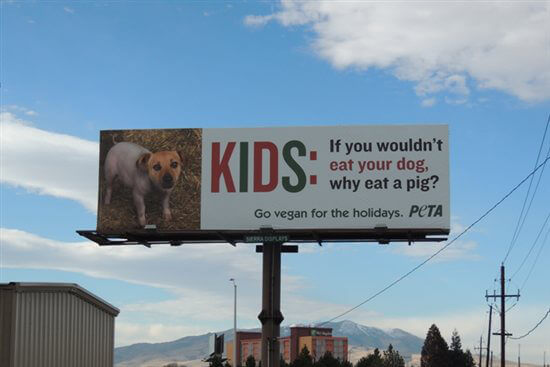 Of course, companion animals need our help, too—and it's not just children who need to reconsider their attitudes. So PETA is also looking to put up a brand-new billboard—promoting spaying and neutering to effectively curb animal overpopulation—in the hope of reaching those kind people for whom this season is more about revering Mary than reveling merrily.

We'd like to thank all the donors whose support of PETA makes it possible to place these billboards, which foster awareness of animal rights. 
What You Can Do
To give a holiday gift that keeps on giving to animals year-round, become a PETA member. And please remember to shop PETA for everyone on your list—each purchase funds vital efforts to improve and save animals' lives!