Although more and more municipalities are passing laws against chaining dogs, many cities still have no such legislation, and there are many dogs still suffering and dying at the end of a chain, especially in freezing weather. Now PETA is making some of these cities—including Buffalo, New York—an offer they shouldn't refuse: We'll shovel the snow off the sidewalks outside City Hall if they'll let us stencil ads on those sidewalks to focus attention on the plight of dogs chained outdoors all winter.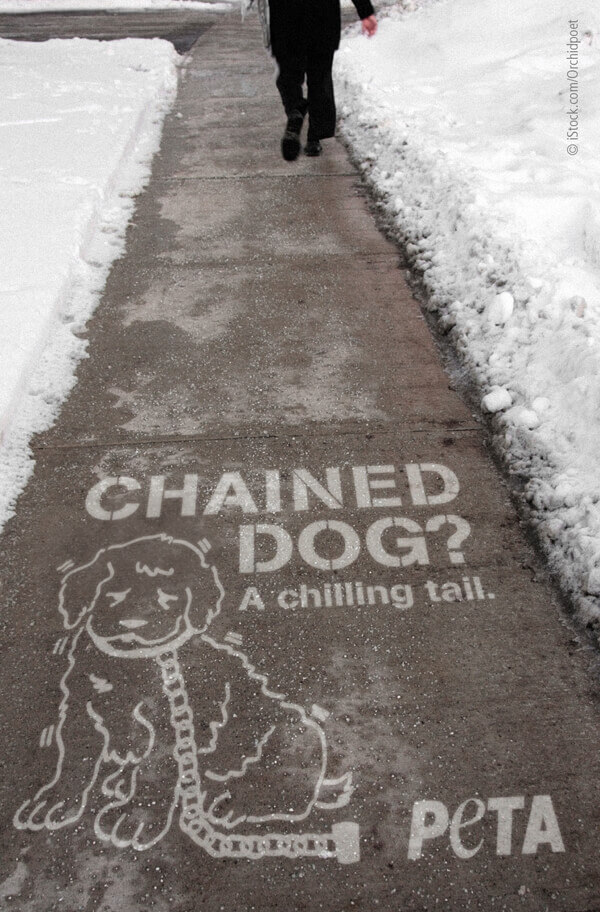 Chained dogs are forced to endure extreme weather conditions and usually go without veterinary attention and any form of companionship. Cold winters spell extra hardship for dogs left outdoors, as they may suffer from dehydration when water sources freeze as well as frostbite and exposure. Frustrated dogs tied out on chains are also more prone to aggression and biting and are vulnerable to acts of cruelty.
Whether or not these cities accept PETA's win-win proposition, there are plenty of ways that we can all speak up for freezing, lonely chained dogs. If your community lacks an ordinance against chaining, demand one—and if you see dogs chained outdoors, help them.