Snow is great when you're watching it through your window with a soy hot chocolate, but imagine being in harness, dragging a cart full of tourists through slush and ice all day, without even a blanket—despite temperatures in the teens—and with nothing but iron between you and the pavement. Doesn't sound like such a happy holiday to me. And when you call the ASPCA, they mumble that they really can't do much. Go figure! That's why PETA supporters Alec Baldwin, Calvin Klein, Todd Oldham, Kathy Najimy, and our very own Golden Girl, Rue McClanahan, have joined together to sponsor our holiday ad calling on New York City to ban horse-drawn carriages!
You remember our Kristen Johnston ad in which she appears as Lady Godiva on a (fake) horse? That ad reads, "Don't get taken for a ride. Horse-drawn carriages are cruel." With help from our famous friends, our ads are going to appear on the tops of hundreds of NYC taxis throughout the holiday season!
It certainly helps to have kindhearted friends in Hollywood places, especially when you're defending those with no voices of their own. Hopefully, this will remind anyone looking for a ride that there are kinder alternatives! So remember, if you're lucky enough to be in New York for the holidays, make sure to save a horse and ride the subway!
Thanks to Alex, Calvin, Todd, Kathy, and Rue, you'll soon see this ad all over NYC.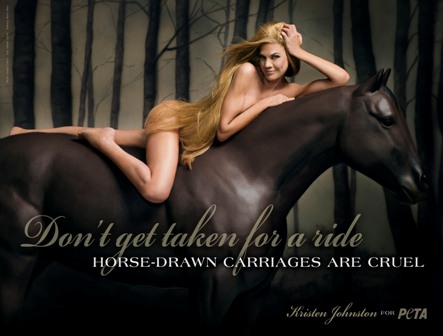 Written by Lianne Turner