What happens in Vegas … sometimes needs PETA's intervention. A sweet cat, likely spooked by barking dogs, ran up a utility pole and was stuck there for four days. A worried Las Vegas resident called local officials for help, but they didn't have the necessary equipment to reach the cat. The frustrated resident called PETA's emergency pager, and the on-duty staffer immediately swung into action. She was able to persuade the local utility company to go to the scene, turn the power on the block off, and retrieve the cat from her precarious perch. The relieved caller took the cat to an animal shelter, where her climbing will be restricted to cat towers while she waits for her forever home.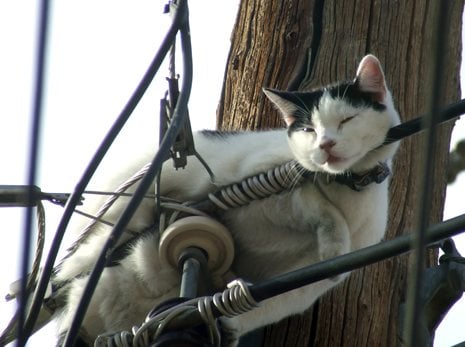 Another terrified cat was recently marooned atop a utility pole for two days in Wallaceburg, Ontario, where concerned residents were unable to get help from local officials. PETA's Emergency Response Team was contacted, and we got in touch with the local utility company, to no avail. But that didn't stop us. We found and hired a wonderful local tree service, which agreed to attempt a rescue, and we arranged for a local SPCA representative to be on site to secure the cat after the rescue. When the tiny gray cat was finally safe in hand, she was whisked to the local animal shelter to await adoption by a family who will keep her indoors. Best of all, the tree service agreed to donate its time and services to PETA, and the callers were so grateful that they wrote to their local newspaper praising our swift action.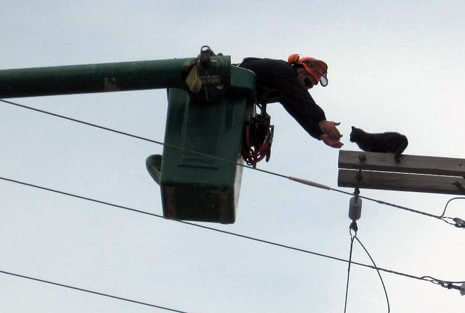 Cat guardians, please don't let your cats outside, even if you are with them. It only takes an instant for them to fall (or climb) into a dangerous situation. To learn more about how to enrich their lives indoors with you, check out 250 Things You Can Do to Make Your Cat Adore You by Ingrid E. Newkirk.
Written by Michelle Sherrow