Chris P. Carrot got to reminisce about being a baby carrot when he visited with children at Memphis' Peabody Park yesterday.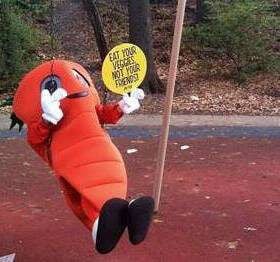 The root enjoyed getting back to his roots and gave kids stickers and booklets encouraging them to eat their veggies, not their friends. A recent University of Minnesota study showed that when kids were shown pictures of vegetables, they ate more of them.  
Helping kids eat healthy veggies in lieu of fatty meat? Piece of (carrot) cake.