Though our "Meet Your Meat" video has always been successful at reaching people, wouldn't it be so much more effective if people had to watch it right before they went shopping for groceries? For shoppers at an Albertsons grocery in San Diego yesterday, that's just what we arranged.
Shoppers entering the store were greeted with two lifelike statues of pigs in gestation crates, allowing them to see firsthand the cruelty that pork, ham, sausage, and bacon purchases support. The statues illustrate the way that sows who are used for breeding are crammed into tiny, isolated metal crates—much like a jail cell fitted around their bodies—for months at a time. This is just one part of the life of hell that is guaranteed to pigs on factory farms, as a recent undercover investigation has shown.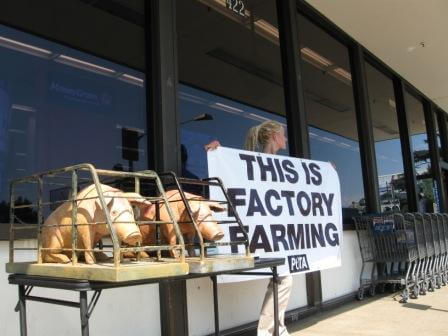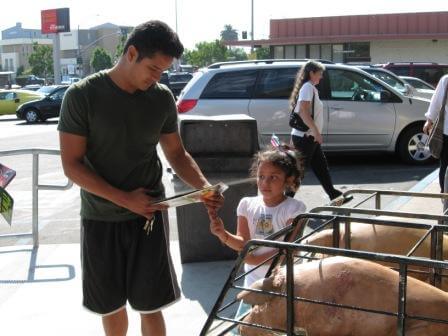 Why Albertsons in San Diego? Assuming you haven't been living under a rock (where did that expression come from?), you've probably heard of California's "Proposition 2," which will appear on the state ballot this November. It includes many items related to space allotment (read: cage size) which would improve the plight of factory-farmed animals—picking up where the sorely lacking federal Animal Welfare Act left off.
Of course, even if you're not registered to vote in California, there's still something you can do to help—don't eat animals, duh!
Written by Sean Conner