Maybe Britney should stick to her trademark crotch shots, because her new post-rehab look definitely isn't working for her. Unless of course she's actually going for the whole "street walker" look, in which case she nailed it. I'm referring to this pic from an article talking about her supposed "comeback":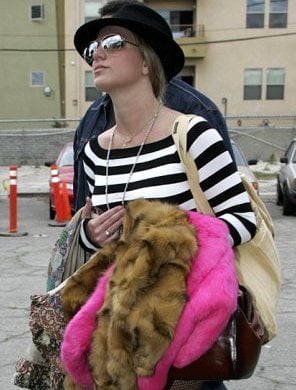 I realize the girl has had it rough and the whole teen star aftermath meltdown was inevitable, but now that she's got a couple of husbands and a stint in rehab behind her, one would think she'd get over her desperate need for attention and ditch the furs. Anyway, if you'd like to send her some inspirational thoughts to help her get over her current fur addiction, you can do that here (click on the star).
And of course, if the furs are fake Britney, I totally take back the whole "street walker" thing. I was just joshing with ya.