Britney snapped with her latest "accessory"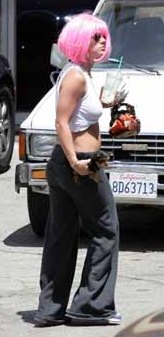 A couple of weeks ago, I made a solemn vow not to waste people's time with more news about Britney Spears' trainwreck of a life. So much for solemn vows, I guess. Seems like everyone's favorite walking disaster has added a new fur to her collection, though unlike her previous forays into buying animal accessories, her latest acquisition is still alive, for the time being. According to People magazine, our Brit wandered into a Bel Air pet store last week and bought herself a Yorkshire terrier on a whim for $3,000. Apart from the lousy example her choice to buy instead of adopt sets for all five of her remaining fans, her track record of abandoning puppies whenever she gets tired of them—not to mention her propensity for dropping babies and, I don't know, shaving her head and checking herself into the psych ward—don't exactly make her the ideal candidate for responsible pet ownership. Or, as PETA VP Dan Mathews puts it,
"Britney needs a new puppy about as much as Lindsay Lohan needs a drink. She can barely look after herself and her kids, and she's tossed away so many dogs before. The only dog Britney is responsible enough to care for is a stuffed toy."
Spears, who was awarded the title of World's Worst Celebrity Dog Owner in 2006 by The Hollywood Dog Magazine, has already been photographed carrying her new Yorkie like a handbag, and spotted bringing the unfortunate animal to an L.A. night club, which is about as suitable a place for a puppy as it is for a recovering alcoholic mother of two.
MSNBC covered the story, and you can read that here.